domingo, 28 de diciembre de 2014
jueves, 25 de diciembre de 2014
Aquí tenéis un vídeo con varias de las mejores canciones del dúo reunidas en una compilación.
miércoles, 24 de diciembre de 2014






Golden Memories Of Karen Without The Hard Answers
December 30, 1988|By Kenneth R. Clark, Media writer.
Karen Carpenter was a kid who seemed to have it all: warm, supportive parents, a voice of molten gold, and a brilliant, adoring brother who took a back seat to her career with never a twinge of sibling rivalry. Under his gentle guidance, singing his arrangements, she collected gold and platinum records as casually as most people collect bric-a-brac.
She would go on to acquire great fame, wealth and an adoring public. Yet, at age 32, with a system ravaged by years of compulsive self-starvation caused by anorexia nervosa, she died.
Why?
Do not look for the answer in ``The Karen Carpenter Story,`` which CBS-Ch. 2 will air at 8 p.m. Sunday. The two-hour story of Karen`s brief life-with Cynthia Gibb meltingly vulnerable in the title role-never addresses the question; it only states the fact in frustratingly peripheral references to diets, laxatives and frantic workouts on an exercise cycle.
The obvious excuse that this never was intended to be a ``disease of the week`` movie does little to relieve the frustration of wondering, in vain, how and why this tragedy took place.
The story itself is as tender as a lamb chop. Gibb and Mitchell Anderson, in the role of Richard Carpenter, make a brother-sister team right out of a parent`s dream. The movie is drenched from opening to credit scroll with the honeyed alto of the real Karen Carpenter, with words lip-synched by Gibb or played as underscoring thematically applied to nearly every scene.
The movie opens to the strains of ``Rainy Days and Mondays Always Get Me Down`` as paramedics rush to Carpenter`s parents` home, where she lies dying. In an unabashedly hokey segue, the ``ghost`` of Karen as a little girl roller- skates past the death gurney, then plunges in flashback to childhood days when Richard, a teenaged piano virtuoso, was the expectant star, before anyone even dreamed that his little sister could sing.
From there, with a few talent-contest trophies on the shelf and a new song, ``Close to You,`` on a minor record label, the road to success is straight up, broad and well paved.
Oh, it has a few potholes. Richard, too hypertensive to sleep at night, gets hooked on Quaaludes and ultimately has to spend time in a detoxification clinic. Karen struggles in vain to escape her mother`s well-intentioned but smothering possessiveness-an act she finally manages by getting married.
At least we think she got married. The movie blows that entire period of her life away in a brief, frenetic montage of screaming fans and recording sessions and one shot of a neglected husband, while Carpenter sings another of her hits, ``Lost in a Masquerade.`` We get the idea, but given the perception of her problems, more than an idea seems called for.
Such shortcutting of the story line for the sake of Carpenter`s vocals is the movie`s principal flaw, reducing an otherwise vibrant love story to something approaching a disc jockey`s version of her life. The words
``anorexia nervosa`` aren`t mentioned until nearly the end of the story, and then the psychiatrist who diagnoses it seems to leave the impression that it`s all her mother`s fault because she was too reserved to say, ``I love you.``
Even granting that little was known about anorexia nervosa when Karen was afflicted with it, such simplistic treatment in light of present knowledge demeans both the victim and those who survived her. Gibb and Anderson, at least, project enough charm to redeem the memory. Cynthia Gibb, Mitchell Anderson in ``The Karen Carpenter Story.``
`THE KAREN CARPENTER STORY`
Produced by Richard Carpenter, directed by Joseph Carpenter, music by Richard Carpenter, written by Barry Morrow. With Cynthia Gibb, Mitchell Anderson, Peter Michael Goetz and Louise Fletcher. Airing at 8 p.m., Sunday, on CBS-Ch. 2.






Karen Carpenter: She Had Only Just Begun : Pop: New Carpenters' album features four songs from Karen's ill-fated solo collection. The album suggests she might have had a career as a soloist.
November 07, 1989 PAUL GREIN
Those names were linked so often in the 1970s, when the Carpenters were the hottest duo in pop music, that many pop fans came to think of the pair as one.
That was fine early in the decade when the Downey brother-and-sister team was turning out instant standards such as "We've Only Just Begun" and "Close to You," but it started to bother Karen in the late 1970s when the duo's fortunes declined sharply.
In an effort to establish an independent identity at last, Karen moved to New York in 1979 to record a solo album with Grammy-winning producer Phil Ramone, whose credits include hits by Billy Joel, Paul Simon and Barbra Streisand.
But the album was never released. Instead, Karen and Richard reteamed to record a traditional Carpenters album, which failed to reverse their downward career momentum. And in 1983--after a brief, failed marriage--Karen died at 32 of complications from anorexia nervosa, an eating disorder which had plagued her since the mid '70s.
With her death, the "lost Karen tapes" became even more of a source of mystery among fans. But they remained unavailable--until now.
Four songs from that shelved 1979 album are featured--along with eight previously unreleased Carpenters recordings--on a just-released Carpenters album, "Love-lines."
The recordings--released to coincide with the 20th anniversary of the Carpenters' signing with A&M Records--suggest that Karen could work effectively outside the Carpenters' mellow pop sound and could have gone on to a thriving solo career.
The big question: Why was the solo album put in limbo?
The bigger question: If the album had been released and been successful, would things have turned out differently for Karen?
The suspicion in some music industry quarters has been that Karen shelved the solo album out of loyalty to Richard, who was anxious to get back to work in 1979 after recovering from a Quaalude dependency. (Richard's dependency was revealed in CBS-TV's "The Karen Carpenter Story," the highest-rated TV movie of the 1988-89 season.)
In an interview tied to the release of the new album, Richard Carpenter, 43, was candid about the conflicts within the Carpenters in the late '70s.
"Karen would mention every now and again that it would be nice to receive some accolades as a solo singer," he said in an A&M office in Hollywood. "Of course, that made me feel badly, because we were a duo. Lord knows, she was the star of the duo, but that's not quite the same."
Richard said that he had a less-than-supportive reaction to Karen's announcement--just after he had begun a six-week drug rehabilitation program--that she was planning to record an album without him.
"I probably said something like, 'You're just abandoning ship, just taking off and doing what you want to do.' I was feeling sorry for myself," he said. "It was a combination of feeling I was being abandoned--which was anything but the case looking back on it--and thinking this was a perfect time for her to get some treatment for her disorder. So I was not happy, and I told her as much."
Richard, who produced and arranged the Carpenters' long string of hits, also acknowledged that he felt threatened by Karen's teaming up with another producer.
"I'm human and it did cross my mind that something could come out of this and just explode at which time I would be going through a number of emotions. I'd be happy for Karen because I always felt that she should have been in the Top 5. On the other hand, being sensitive and feeling I'd done a good job for the Carpenters I would have been a little bit upset."
In a separate interview from his New York office, producer Phil Ramone discussed his and Karen's objective on the album. "We were thinking two things: How do we make a record that doesn't sound like the Carpenters, and what could we say lyrically in these songs that has a more mature attitude?"
The solo album included a spare, intimate reading of the sexually direct "Make Believe It's Your First Time" and a bluesy version of Paul Simon's "Still Crazy After All These Years"--though Karen, mindful of her prim image--had Simon change the line, "4 in the morning / crapped out / yawning" to the more demure "crashed out."
"Karen was frustrated by the Goody Two-Shoes image, but she was torn," Ramone said. "She wanted to do try new things, but then she'd turn around and say, 'We're going to do another Carpenters Christmas special.' I kept saying, 'The (Andy) Williams family even got past that one.' "
Ramone still remembers the day in early 1980 when he and Karen played the album for Richard and A&M founders Herb Alpert and Jerry Moss.
"The silence was deafening," he said. "Richard didn't say much and still hasn't. He's accepted these songs kind of like stepchildren. Karen was always the sweetheart of A&M, and Herb and Jerry reacted almost like it was their teen-age daughter I was messing with."
Karen Carpenter's Brother Pledges $1 Million Memorial
Karen Carpenter's brother, Richard, pledged $1 million for a new arena named for the 1970s singing duo.
Richard Carpenter, 48, gave the money to the Carpenters' alma mater, California State University at Long Beach, for the Richard and Karen Carpenter Performing Arts Center. Karen Carpenter died in 1983 of anorexia nervosa.
"The center allows me to continue my support for the university with a very personal desire to pay tribute to a remarkable person, my sister, Karen," Carpenter said Monday.
The Carpenters had a series of pop hits in the early '70s, including "We've Only Just Begun," "Rainy Days and Mondays" and "Superstar." The duo won three Grammy Awards.
Carpenter's voice: The stuff of dreams
The other frigid night, I sat alone on the snowy street outside my house listening to Karen Carpenter sing "I'll be Home For Christmas" on my car radio.
I love that voice.
It hit notes with such surety. Its evocative lower register had a richness that no female pop singer ever has matched. But most important of all, it was such a guileless instrument.
Carpenter sang without attitude -- but also without excessive sentiment. In other words, her voice was at once incredibly beautiful and strikingly neutral. Even when her brother's oft-cheesy arrangements and harmonizing fought hard against her honesty, Carpenter's singing always allowed for the transference of longing and desire.
And that's exactly what "I'll be Home for Christmas," my favorite song from this time of year, requires. First recorded in 1943 by Bing Crosby with the John Scott Trotter Orchestra, the lyrics first were intended as a kind of war-time fantasy, as if dreamed by a soldier stuck overseas and dreaming of home and hearth. The ultimate line of the song, after all, is a sad one: "If only in my dreams."
As with her other Christmas recordings, Carpenter's version was infinitely more complex.
Listen to her sing this Christmas ballad and you can hear a weary business traveler shoving past delays at O'Hare. You can sense a mother rushing back to her kids who count on her. And you can detect a lover desperate for a warm bed with someone in it.
All at once.
And although it's been nearly 23 years since Carpenter's death (at the age of 32), the recording will forever come with a certain sadness. Sometimes, it can feel like she's singing about a home where someone is missing for good.
Frankly, the impact of the song all depends on one's mood of the moment -- and at what point the listener is in their life. That was Carpenter's brilliance -- that coupling of certitude and pliability, that unique combination of eroticism and maternal comfort.
This is a song that revolves around a promise. And Carpenter's voice had the unmistakable sound of one who always kept her promises.
When I was single and lonely, this singer and this Christmas song evoked the home I wanted and the person I wanted in it with me. Now she -- and it -- make me think about the nature of my home and its place in my priorities. The world of the song is both a confirmation of what we have, and yet, given the frantic way life goes at this time of year, also an elusive dream.
Still carrying a torch for Karen Carpenter
On Dec. 23, Tempo published my short appreciation of the late, great singer, whose version of "I'll Be Home for Christmas" is my favorite seasonal recording. Bar none. The response from readers was immediate, great in size and strikingly emotional.
Many readers noted the astonishing richness and honesty of Carpenter's voice, praising its purity, beauty and complexity. Some implied a certain embarrassment in being a Karen Carpenter fan, a state of being that many said they must keep secret.
A few suggested there were other voices worthy of compare. But most argued otherwise.
Carpenter has always been able to wriggle below my defenses. Clearly, I'm not alone.
ST. CHARLES -- How I enjoyed your article on Karen Carpenter. I agree with you 100 percent. What a beautiful and unique gift she had, and such a tragedy to lose her.
I'm so tired of the "pop-divas" with their machine-gun vibratos reaching into the upper scales. While they may be considered technically accomplished, they are indistinguishable from one another.
When Karen Carpenter is singing, my head turns and I say "aaaahhhh," only one of her!
Merry Christmas.
-- Sheridan Florence
AMES, Iowa -- "Strikingly neutral" is a good way to express the quality of Karen's voice. For me, she nailed the note without artifice and tremulous, never sneaking up from behind or the side of a tune to strike something different the way so many others try. Who needs "different" when being true to the music as written is all that's required? But of course that's the problem. Few are able to "just sing."
Thanks for the well-expressed tribute. It's so good (and often rare) that someone agrees with me.
-- Phyllis Harris
NAPERVILLE--For years I have argued that the best female vocalist that I had heard in my lifetime was Karen Carpenter. Had her life not been cut short, I'm certain that more people would feel this way. Her presentation was pure and effortless.
She never seemed to strain to reach a note. She didn't flaunt her talents with departures from an original composition the way that many contemporary artists do. You can keep your Barbras, your Mariahs, and your Celines. In my book, they all pale in comparison to Karen Carpenter.
John Madormo
LEMONT -- I don't normally read your section of the newspaper, but the Carpenter name in the headline caught my attention. I share your appreciation for the unusual quality of Karen's voice and the way she delivered the lyrics. I was such a fan that when I hear her voice, I get angry with her for taking it away from me so soon.
-- John Pianowski
SYCAMORE -- Last night as I turned into my development after driving from O'Hare, I was listening to Karen Carpenter sing "I'll Be Home for Christmas," so it was very enjoyable to read your column of an appreciation for her. I am a longtime listener of all Carpenters albums and agree that there has not been another voice such as hers. Thanks for the very nice article, remembrance and sentiment.
As I'm sure you know, she also played drums (occasionally) for their band and she had great taste in automobiles, once owning a beautiful rust and beige 1956 Chevrolet convertible.
-- Wed Lundsberg
CHICAGO -- Thank you for an unexpected gift for Christmas: a touching tribute to one of the most gifted female singers of all time, Karen Carpenter. There are not many writers out there who would delve into the obscure subject of the purity and near perfection of Karen's technique. Karen's voice had no pretense. She knew where to go with a song and simply delivered. The minute you hear that rich alto, you know it's Karen.
Call it what they will, but many of us have a love affair with a voice that is so intimate, it almost seems as if she's right there in the room with you. Her untimely death leaves me to wonder what other great material would have emerged from this amazing talent. Richard Carpenter once said: "If I knew we were going to lose her so young, I would've not had her sing stuff like `Beechwood- 45789.'"
Thank you again for reminding us of that inimitable voice, the "girl next door" we all loved and still love: Karen Carpenter.
-- Matthew Cortez
ARLINGTON HEIGHTS -- I just read your article on Karen Carpenter and the song, "I'll Be Home for Christmas." I immediately got a sense of deja vu -- in the sense that you took the words right out of my mouth -- words that I have been saying since they started playing holiday songs this year. The song itself is beautiful -- but what makes it so special is the rendition by Carpenter. I've heard it sung by countless singers in all genre's of music -- but no one brings the unique touch that she does -- with her crisp, clear (you hear every note) -- and in her own way, soulful singing. Her voice was an amazing instrument -- and never more perfect than in singing this song. It is such a shame that we were robbed of such a talent.
-- Linda Rudolf
The stuff of dreams: Karen Carpenter's voice
The other frigid night, I sat alone on the snowy street outside my house listening to Karen Carpenter sing "I'll be Home for Christmas" on my car radio.
I love that voice.
It hit notes with such surety. Its evocative lower register had a richness that no female pop singer ever has matched. But most important of all, it was such a guileless instrument.
Carpenter sang without attitude -- but also without excessive sentiment. In other words, her voice was at once incredibly beautiful and strikingly neutral.
Even when her brother's oft-cheesy arrangements and harmonizing fought hard against her honesty, Carpenter's singing always allowed for the transference of longing and desire.
And that's exactly what "I'll be Home for Christmas," my favorite song from this time of year, requires. First recorded in 1943 by Bing Crosby with the John Scott Trotter Orchestra, the lyrics first were intended as a kind of war-time fantasy, as if dreamed by a soldier stuck overseas and dreaming of home and hearth. The ultimate line of the song, after all, is a sad one: "If only in my dreams."
As with her other Christmas recordings, Carpenter's version was infinitely more complex.
Listen to her sing this Christmas ballad and you can hear a weary business traveler shoving past delays at O'Hare. You can sense a mother rushing back to her kids who count on her. And you can detect a lover desperate for a warm bed with someone in it.
All at once.
And although it's been nearly 25 years since Carpenter's death (at the age of 32), the recording will forever come with a certain sadness. Sometimes, it can feel like she's singing about a home where someone is missing for good.
Frankly, the impact of the song all depends on one's mood of the moment -- and at what point the listener is in their life. That was Carpenter's brilliance -- that coupling of certitude and pliability, that unique combination of eroticism and maternal comfort.
This is a song that revolves around a promise. And Carpenter's voice had the unmistakable sound of one who always kept her promises.
When I was single and lonely, this singer and this Christmas song evoked the home I wanted and the person I wanted in it with me. Now she -- and it -- make me think about the nature of my home and its place in my priorities. The world of the song is both a confirmation of what we have, and yet, given the frantic way life goes at this time of year, also an elusive dream.
Karen Carpenter gets a tribute
When a beloved artist dies long before his or her time, you always wonder what could have been. Fans regret the albums they'll never hear, the films they'll never see or the books they'll never read. While the artist's material lives on for future generations to discover and enjoy, the idea that nothing new will emerge is a harsh reality. When Karen Carpenter died in 1983 of heart failure because of complications from years of battling anorexia, fans not only mourned the loss of the gifted singer, but the demise of The Carpenters. Marianne Murphy Orland's Tribute to Karen Carpenter celebrates the star's legacy in song with hits such as "(They Long to Be) Close to You" and "We've Only Just Begun." 2 p.m. Sunday, Skokie Theatre Music Foundation, 7924 N. Lincoln Ave., Skokie. $20 advance, $25 at the door; 847-677-7781 or skokietheatre.com
Karen Carpenter's tragic story
Karen Carpenter's velvet voice charmed millions in the 70s… but behind the wholesome image she was in turmoil. Desperate to look slim on stage – and above all desperate to please the domineering mother who preferred her brother – she became the first celebrity victim of anorexia. In a revealing new biography, extracted below, Randy Schmidt tells the full story…
Randy Schmidt

The Observer

, Sunday 24 October 2010.



The Carpenters were one of the biggest-selling American musical acts of all time. Between 1970 and 1984 brother and sister Richard and Karen Carpenter had 17 top 20 hits, including "
Goodbye to Love
", "
Yesterday Once More
", "
Close to You
" and "
Rainy Days and Mondays
". They notched up 10 gold singles, nine gold albums, one multi-platinum album and three Grammy awards. Karen's velvety voice and Richard's airy melodies and meticulously crafted arrangements stood in direct contrast to the louder, wilder rock dominating the rest of the charts at the time, yet they became immensely popular, selling more than 100m records.
Richard was the musical driving force but it was Karen's effortless voice that lay behind the Carpenters' hits. Promoted from behind the drums to star vocalist, she became one of the decade's most instantly recognisable female singers.
But there was a tragic discrepancy between her public and private selves. Offstage, away from the spotlight, she felt desperately unloved by her mother, Agnes, who favoured Richard, and struggled with low self-esteem, eventually developing
anorexia
nervosa
from which she never recovered. She died at the age of 32.
In 1996 journalist Rob Hoerburger powerfully summed up Karen Carpenter's tribulations in a
New York Times Magazine
feature: "If anorexia has classically been defined as a young woman's struggle for control, then Karen was a prime candidate, for the two things she valued most in the world – her voice and her mother's love – were exclusively the property of her brother Richard. At least she would control the size of her own body." And control it she did. By September 1975 her weight fell to 6st 7lb (41kg).
Karen's quest to be thin seems to have begun innocently enough just after high school graduation when she started the Stillman water diet. Although she was never obese, she was what most would consider a chubby 17-year-old at 10st 5lb. (She was 5ft 4in tall.) She levelled off at around 8st 8lb and maintained her weight by eating sensibly but not starving herself. Even so, eating while on tour was problematic for Karen, as she described in 1973: "When you're on the road it's hard to eat. Period. On top of that, it's rough to eat well. We don't like to eat before a show because I can't stand singing with a full stomach… You never get to dinner until, like, midnight, and if you eat heavy you're not going to sleep, and you're going to be a balloon." Karen was shocked when she saw photos from an August 1973 Lake Tahoe concert where an unflattering outfit accentuated her paunch. She hired a personal trainer, who made visits to her home and recommended a diet low in calories but high in carbohydrates. Instead of slimming down as she had hoped, Karen started to put on muscle and bulk up. Watching the Carpenters on a Bob Hope television special that autumn, she remarked that she had put on some extra weight. Richard agreed she looked a bit heavier. She was discouraged and vowed she was going to "do something about it". She fired her trainer, and immediately set out on a mission to shed the unwanted pounds on her own. She purchased a hip cycle, which she used each morning on her bed, and because it was portable the equipment was packed and taken with her on tour.
"She lost around 20lb and she looked fabulous," recalls Carole Curb, the sister of Karen's then boyfriend, record executive Mike Curb. "She weighed 110lb [7st 12lb] or so, and looked amazing… If she'd been able to stop there then life would have been beautiful. A lot of us girls in that era went through moments of that. Everybody wanted to be Twiggy. Karen got carried away. She just couldn't stop."
Having witnessed Karen's meticulous routine of counting calories and planning food intake for every meal, Richard complimented her initial weight loss during a break from recording as the two dined at the Au Petit Café, a favourite French bistro on Vine Street near the A&M studios. "You look great," he told her.
"Well, I'm just going to get down to around 105."
"A hundred and five? You look great now."
Karen's response worried Richard. In fact, this was the first time he paused to consider she might be taking the diet too far. Friends and family began to notice extreme changes in Karen's eating habits, despite her attempts at subtlety. She rearranged and pushed her food around the plate with a fork as she talked, which gave the appearance of eating. Another of her strategies involved offering samples of her food to others around the table. She would rave on about her delicious meal and then insist that everyone try it for themselves. "Here, you have some," she would say as she enthusiastically scooped heaps on to others' plates. "Would you like to taste this?" By the time dinner was over, Karen's plate was clean but she had dispersed her entire meal to everyone else. Her mother, Agnes, caught on to this ploy and began to do the same in return. "Well, this is good, too," she would say as she put more food on to her daughter's plate. This infuriated Karen, who realised she would have to find other ways to avoid eating.
By the time Karen's weight dropped to 6st 6lb, she looked for ways to disguise the weight loss, especially around those she knew would make comments or pester her to eat more. She began to layer her clothing, a strategy her agent Sherwin Bash noticed in the early part of 1975. "She would start with a long-sleeved shirt and then put a blouse over that," he explains, "and a sweater over that and a jacket over that… With all of it you had no idea of what she had become."
But family friend Evelyn Wallace was shocked when she caught a glimpse of Karen's gaunt figure as she sunbathed topless in the back garden of the Carpenters' home in Downey, California, one afternoon. "They put this screen around her so nobody else could see her," Wallace explains. "She loved to go lay out in the sunshine. I don't know whether it was to get a tan or get away from her mother. Anyhow, I happened to go out to the kitchen for something and I saw her out there. She just had on her little bathing suit shorts. You couldn't tell whether it was a girl or a boy. She had absolutely no breasts."
Karen's new slim figure required that she purchase a new stage wardrobe, and she opted for a number of low-cut silky gowns, some strapless or even backless. Bash was horrified to see her bony shoulders and ribs. Even her hip bones were visible through the thin layers of fabric. He asked Karen to rethink the wardrobe choices before going on stage. "I talked her into putting a jacket on over the bare back and bare arms," he said, "but the audience saw it."
There was often a collective gasp from the audience when Karen would take the stage. In fact, after a few shows, Bash was approached by concerned fans who knew something was terribly wrong but assumed she had cancer or some other disease. Even critics took note of her gaunt appearance. A review for
Variety
praised Karen's emergence from behind the drums to centre stage but commented on her deteriorating appearance. "She is terribly thin, almost a wraith, and should be gowned more becomingly".
No one really understood why Karen wasn't eating. To those around her the solution seemed simple: eat. "Anorexia nervosa was so new that I didn't even know how to pronounce it until 1980," band member John Bettis said. "From the outside the solution looks so simple. All a person has to do is eat. So we were constantly trying to shove food at Karen… My opinion about anorexia is it's an attempt to have control – something in your life you can do something about, that you can regiment. That just got out of control with her."
Band members witnessed her exhaustion. She was lying down between shows, something she had rarely, if ever, done before. They were shocked to see how she could be flat on her back one minute and on stage singing the next. Even when doing back-to-back shows, Karen displayed "a tremendous amount of nervous energy", said Bash. Unlike her parents, Bash had no qualms about confronting Karen on the issue of anorexia. "The fact that she was anorexic was discussed innumerable times… There was every attempt to get her to seek professional help, but I believe her family was the kind of family where the mother would say, 'We can take care of ourselves. We don't need to have someone help. This is a family matter.'"
When Karen dieted, or "overdieted", Bash explains, there was a rush of attention from the family, especially Agnes. "Karen had never had attention from Agnes before – her mother doted exclusively on Richard – so she liked it. The experts say that one of the things that seems to drive young girls to overdiet is that they were oftentimes the kids that never got attention. It's a way of getting the love from their family that they never got before."
By the autumn of 1975 Karen's failing health could no longer be ignored. In addition to her skeletal appearance, she was mentally and physically exhausted. Although she made it through a series of shows in LasVegas without a major incident, upon returning to Los Angeles she checked into Cedars-Sinai Medical Centre, where she spent five days while doctors ran tests. "She is suffering a severe case of physical and nervous exhaustion," said Dr Robert Koblin in a statement to the press. "She had a hectic four-week schedule lined up in Europe but I could not allow her to go through with it. In my opinion it would have been highly dangerous to her long-term health."
Melody Maker
reported that the Carpenters' tour would have been the highest-grossing tour in Britain and that approximately 150,000 people were set to see them during the planned 28-day European trek. Ticket sales for the 50 shows, which sold out in a matter of hours, were refunded. It was reported that the Carpenters may have easily lost upward of $250,000 due to the cancelled concerts.
Under Agnes Carpenter's close watch, Karen slept 14-16 hours a day. "My mother thought I was dead," she told biographer Ray Coleman. "I normally manage on four to six hours. It was obvious that for the past two years I'd been running on nervous energy." Her weight eventually climbed to 7st 6lb.
Over the next five years Karen continued to struggle with anorexia and bulimia nervosa. Meanwhile Richard Carpenter fought and won a battle with Quaalude addiction. Then in June 1980, after an unsuccessful attempt to launch a solo career, Karen announced her engagement to a property developer called Tom Burris. Thirty-nine-year-old Tom Burris met a number of Karen's requirements in a potential husband. "He was very attractive, very nice, and he seemed very generous," said Carole Curb. Two months into their relationship, Burris told Karen he wanted to spend the rest of his life with her. The couple's plan for a year-long engagement was ditched when they announced in July their plans for an August ceremony. The push to be married alarmed Karen's friends. According to Karen 'Itchie' Ramone, Karen's friend and the wife of producer Phil Ramone, "That's when everybody's antennas went up." Days before the wedding rehearsal Burris dropped a bombshell: he had undergone a vasectomy prior to their meeting. Karen was dumbfounded. He offered to reverse the procedure but their chances at a family would be significantly lessened.
Karen felt betrayed. Burris had lied to her; he had withheld this information for the duration of their courtship and engagement, knowing full well that starting a family was at the top of Karen's list of priorities. This was a deal breaker. The wedding was off. Karen picked up the phone and called her mother. She cried to Agnes as she explained the deceit that left her with no choice but to cancel the ceremony. But Agnes told her she would do no such thing. Family and friends were travelling from all over the country to attend the event. Moreover, the wedding expenses had already cost what Agnes considered to be a small fortune. "The invitations have gone out. There are reporters and photographers coming.
People
magazine is going to be there. The wedding is on, and you will walk down that aisle. You made your bed, Karen," she told her. "Now you'll have to lay in it."
Most of Karen's family and friends had assumed Burris's lifestyle and net worth were comparable to her own. The expensive cars and other possessions gave him the appearance of a multimillionaire, but what others did not realise was that he was living well beyond his means.
"It wasn't long after they got married that he started asking her for money," recalls Evelyn Wallace. "He'd give her some excuse, and she'd give him the money. He'd ask for $35,000 and $50,000 at a time. Finally it got down to the point where all she had left was stocks and bonds."
As Itchie Ramone recalls, "Tom couldn't afford the houses, the cars, her wedding ring; he couldn't pay for anything." Karen began to share with friends her growing misgivings about Tom, not only concerning his finances but also his lack of feelings for her. He was often impatient, and she admitted being fearful when he would occasionally lose his temper. "He could be very cruel to her," says Itchie. But Karen's longing to be a mother proved to be stronger than her desire to leave her husband. At their house in Newport Beach Karen expressed to Burris her desire to get pregnant and start a family. His response was brutal. She was still crying hysterically when she called Itchie Ramone for support. Burris had told her he wouldn't even consider having children with her and called her "a bag of bones". According to Itchie, this marriage was "the straw that broke the camel's back. It was absolutely the worst thing that could have ever happened to her."
Friends suggested she and Burris seek marital counselling. Instead, the Carpenters prepared to leave for Europe and South America. Itchie went along to keep Karen company. In reality, however, according to Itchie, "Laxatives were her major companion. When we were in Paris we made quite a scene in a pharmacy across the street from our hotel about her needing to buy more laxatives. I suggested natural food groups that might relieve her 'constipation' but she always won those arguments."
Following a brief stop in Amsterdam, the Carpenters arrived at London's Heathrow airport on Wednesday, 21 October 1981. They made numerous promotional appearances while in London, both in person and on television. On Thursday they taped an interview for
Nationwide
, a popular news magazine on BBC television. Barely one minute into their visit, host Sue Lawley surprised Karen by casting light on her darkest secret. "There were rumours that you were suffering from the slimmer's disease anorexia nervosa," Lawley said. "Is that right?" "No, I was just pooped," Karen said with an intense frown. "I was tired out."
"You went down to about six stone in weight, I think, didn't you?" Lawley asked. "I have no idea what 'six stone in weight' is," Karen replied, becoming noticeably uncomfortable and increasingly agitated. She struggled to fake a laugh, rolling her eyes at the interviewer, who quickly converted the amount to approximately 84lbs. "No," she said, shaking her head adamantly. "No."
In actuality her weight was hovering around 5st 10lbs even then. The interviewer's continued efforts to pinpoint a reason for Karen's skeletal appearance prompted Richard to come to his sister's defence. "I don't really feel that we should be talking about the weight loss," he told Lawley. "Maybe it's better to take a pass on the whole thing. It's really not what we're here for."
"I am just asking you the questions people want to know the answers to," Lawley replied.
Returning to Los Angeles in November 1981, Karen filed for divorce. Leaving behind the pieces of her broken marriage, she set out on a year-long recovery mission, relocating to New York City's Regency Hotel in January 1982. Manager Jerry Weintraub arranged for Karen and Itchie Ramone to share a two-bedroom suite. Cherry O'Neill, the eldest daughter of singer Pat Boone who had herself recovered from anorexia, had recommended Karen consider coming to the northwest and seeing the doctor who helped her. But in Karen's world, one name was synonymous with anorexia treatment, and that name was Steven Levenkron. He was a psychotherapist specialising in
eating disorders
and his successful book
The Best Little Girl in the World
had become a highly acclaimed television movie, which aired in May 1981. Levenkron agreed to treat her. He received £100 for each hour-long session five days a week, totalling $2,000 a month. "I liked Levenkron, at least in the beginning," Itchie Ramone says. "No one really knew why someone would get the disorder or how to treat it, so we were really looking to him to 'save' her."

Arriving at Levenkron's office at 16 East Seventy-Ninth in Manhattan, Karen weighed in at an alarming 5st 8lb. A week into their daily sessions, Karen admitted to Levenkron she was taking a large number of laxative tablets – 80-90 Dulcolax a night. This did not surprise Levenkron. In fact, it was a common practice for many anorexics. "For quite some time, I was taking 60 laxatives at once," admits Cherry O'Neill. "Mainly because that was how many came in the box… I would ingest the entire contents so as not to leave any evidence."
What did stun Levenkron was Karen's next casual disclosure. She was also taking thyroid medication – 10 pills a day. He was shocked, especially when she explained that she had a normal thyroid. Realising she was using the medication to speed up her metabolism, Levenkron confiscated the pills. This was the first case of thyroid medication abuse he had seen in his dozen years in the field.
According to Levenkron's 1982 book,
Treating and Overcoming Anorexia Nervosa
, the patient must become totally dependent upon the therapist. Once the patient has transferred their dependence on to him, he tries to teach them how to create their own sense of identity, and he helps them disengage from their dependence on him with new behaviours, habits, and thought patterns.
Karen took advantage of the beautiful spring weather and began a new exercise routine – to and from her sessions with Levenkron – a brisk two-mile round-trip walk. This was yet another method to burn extra calories. Outwardly Karen seemed committed to the idea of therapy, but as evidenced by her daily walking regimen, she was not as committed to making actual changes that would result in real progress. "She was still walking a lot, and she was exercising," Carole Curb says. "And then she was into throwing up and taking pills that make you lose water-weight. Debilitating things like that."
Several months into his sessions with Karen, Levenkron began to suspect that she had fallen off the wagon. He invited the Carpenter parents and Richard to a 90-minute family therapy session at his office. "They did come to New York –finally," Itchie Ramone recalls, "and only after a lot of nudging. By then, Karen seemed to be starting to turn the corner a bit emotionally."
The stigma surrounding mental illness and a need for therapy was frightening for the family, especially Agnes, who felt Karen was simply going overboard as far as dieting was concerned. If only she would stop being so stubborn and just eat. Over the years the family tried every possible approach to get through to her and make her eat. "Everyone around her did everything that they could have humanly done," Richard said in 1993. "I tried everything – the heart-to-heart, the cajole, the holler… It can just make you crazy. Obviously it wasn't about to work, and I was upset."
Levenkron explained that the family's attempts to threaten or bribe Karen out of her behaviours would never make them go away. According to his book, "Failure of the family to understand this produces division within the family that in turn results in feelings of anger and guilt. The family atmosphere is chaotic, reinforcing the anorexic's belief that she and no one else knows what is best for her." Levenkron suggested to the family that Karen was in need of a more tactile, demonstrative kind of love. Karen cried uncontrollably during the meeting. She told them how sorry she was for having put them in a situation where they felt a need to defend her upbringing, and she went so far as to apologise for ruining their lives. "I think Karen really needs to hear that you love her," Levenkron told the family.
"Well, of course I love you," Richard told her unreservedly.
"Agnes?" The therapist tapped the mother's shoe with his own.
Rather than address her daughter, Agnes explained how she preferred to be called Mrs Carpenter. "Well, I'm from the north," she continued. "And we just don't do things that way."
"Agnes couldn't do it," says Itchie Ramone, who discussed the meeting with Karen and Levenkron after the family left. "She couldn't do it… In therapy you're basically stark naked. Then your own mother can't reach out to you? And the way she doted on Richard. Most children would try to dance as fast as they could to make their parents love them, but it was at that point that I think Karen decided it was time to take a step back."
After the meeting with Levenkron, Richard became angry with the treatment plan, which he thought to be worthless. He was upset that Karen had not checked herself into an inpatient facility as one would do to conquer substance abuse. He and his parents returned to California and chose to keep their distance after this painful encounter. They made no further attempts to contact Karen's therapist. "What I find interesting," Levenkron stated in 1993, "is that in the entire time Karen was in New York, I got zero calls from the family. I have never treated anyone with anorexia nervosa whose family didn't call regularly because they were concerned." Likewise, Richard claimed to have never received a call from Levenkron.
Karen and Itchie were surprised to learn that Levenkron was not an actual doctor. "We used to call him 'Dr Levenkron' all the time," Itchie explains. "Then we found out that he wasn't even a real doctor. Any medical issues she had, we had to go see this other doctor at Lenox Hill Hospital."
According to Evelyn Wallace, "Karen picked the wrong guy to go to. He wasn't even a doctor. It seemed like Levenkron was simply trying to talk Karen out of having anorexia, but she'd talk to him and she'd go back to the same routine."
By the autumn of 1982 Karen showed no real signs of progress. In fact, her walks to and from sessions with Levenkron kept her body weight beneath the six stone mark. Itchie Ramone called Levenkron and voiced her concerns. "Look, Karen's getting thinner and thinner," she exclaimed. "Plus, it's obvious she doesn't have her usual energy anymore. When do you expect this turnaround? She's just skin and bone."
The therapist agreed that Karen seemed extra tired and was not responding as quickly as he had hoped, and vowed to try another approach. After her next session with Levenkron, Karen asked Itchie if she could borrow a swimsuit. "What?" Itchie asked. "There's no pool in the hotel. Besides, it's cold out!"
"No, I have to wear it tomorrow for Levenkron," Karen answered. The two stopped by the Ramones's apartment to pick up a size 2 light green bikini belonging to Itchie. Karen changed into the bikini and emerged smiling. Itchie was mortified and unable to hide her reaction. "What's the matter?" Karen asked. "It fits."
"Uh, yeah, it fits," she said hesitantly. "You can use it tomorrow, I guess."
Returning to Levenkron the following day, Karen was asked to change into the bikini and stand in front of the office mirror. He urged her to survey and evaluate her body. "She didn't really see any problem with how she looked," Itchie recalls. "In fact, she thought she was gaining a little weight. But she was 79lb."
In mid-September Karen phoned Levenkron and told him her heart was "beating funny". She was quite upset, anxious, and confused. She complained of dizziness to an extent that she was unable to walk. Despite not being medically qualified, he recognised her symptoms as those of someone suffering extreme dehydration. Karen was admitted to New York's Lenox Hill Hospital on 20 September 1982 to begin hyperalimentation, or intravenous feeding.
The next morning she went into surgery to have a small-bore catheter implanted within the superior vena cava (right atrium of the heart). An unexpected complication was discovered later that day when she complained to the nurse of excruciating chest pain, and X-rays revealed the doctors had accidentally punctured one of her lungs in their attempts to insert the tube.
As her lung began to heal, Karen's body quickly responded to the artificial means of feeding. The hyperalimentation process completely replaced all of her nutritional needs, and a precise daily calorie intake was dispensed through the catheter. This loss of control was known to often spark fear in patients, and doctors who oppose hyperalimentation argue that it does not teach the patient to eat properly. However, Karen went along with it and gained 12lb in only a few days. Solid foods were slowly reintroduced as the level of assistance from Karen's IV lessened, and she continued to gain weight steadily. Unlike many other patients she seemed pleased and excited to show visitors her progress. Richard flew in to visit on 25 October and, like most who saw her there, was shocked and saddened. She was still horribly emaciated and barely identifiable by this stage. "You see how much better I look?" she asked.
Richard nodded in agreement but only to appease his sister. In an attempt to divert the attention away from herself, Karen told him of other patients who were much worse off. But he was not sidetracked. "Karen, this is crap," he said suddenly. "Don't you understand? This is crap! You're going about this all the wrong way. This guy isn't getting anything accomplished because you're in a hospital now!"
By November Karen was eating three meals a day at Lenox Hill, and trying to stay positive about the weight gain, by then approaching the 30lb mark. The return of her menstrual cycle, which had ceased during the previous year, seemed to signify an improvement in emotional and physical wellbeing.
On 16 November Karen visited Steven Levenkron for the last time and presented him with a farewell gift, a framed personal message in needlepoint. The large green-threaded words "you win – I gain" served as tangible proof of the long hours Karen had spent alone in the hospital. Learning of her plan to leave, Levenkron reminded Karen she was abandoning the program much too soon, and that treatment takes at least three years. He suggested a therapist in Los Angeles so that she might continue a routine of some sort upon her return home, but she declined. She promised to call him and swore she would not take any more laxatives or diuretics. Agnes and Harold (Karen's father) met up with her at Levenkron's office that day. The couple had flown to New York City to bring their daughter and her 22 pieces of luggage home. It was obvious to most that Karen's treatment was inadequate and ending too soon.
"She tried to get help," says her longtime friend Frenda Franklin. "She went to New York to try. It just wasn't the right way to do it. If this had happened in today's world I think Karen would have lived. I think we would have had a good shot. They know so much more. We were dancing in the dark."
Karen ate heartily on Thanksgiving Day, much to the delight of her family, and she even called Itchie Ramone that night to tell her of all she had eaten. "She said to me, 'I ate this and that and all my favourite things,'" she recalls. "She was very proud of herself then. We were all very proud of her. It seemed like progress."
In the weeks following her return to Los Angeles Karen went back to shopping and socialising without delay. Although others felt she was still quite fragile and thin, Herb Alpert, who had first signed the Carpenters to A&M, saw Karen shortly after the New Year and recalled her looking terrific. She bounced into his office saying, "Hey, look at me, Herbie! What do you think? How do I look?" Alpert agreed that she looked happier and healthier than he had seen her in some time, and felt she appeared to have won the battle. "I am so happy," she told him.
"I'm ready to record again, and Richard and I have been talking about getting the group together and performing."
Despite her high spirits, she was taking more naps than usual and sometimes lying down by seven in the evening. Richard did not believe she was well, and he told her so. On Thursday 27 January Florine Elie drove to Century City for her weekly cleaning of Karen's apartment at Century Towers. There the housekeeper made an unnerving discovery. "When I was working up there I found Karen," Elie says. "She was lying on the floor of her closet." She gently shook Karen who awoke but was groggy. "Karen, is there something wrong?" she asked.
"No, I am just so tired," she replied.
"Maybe you better go lie on your bed," she said, helping Karen up and tucking her into bed.
Florine checked on Karen again before leaving. By then she was awake and adamant she was OK.
Tuesday 1 February found Karen dining with her brother, this time at Scandia on Sunset Boulevard. They were joined by stage producer Joe Layton, and the trio discussed plans for the Carpenters' return to touring. Karen ate with enthusiasm and after dinner returned to Century Towers. This was the last time Richard would see his sister alive.
The next day Karen spoke with Itchie Ramone, who was pregnant with her and Phil's first child. Karen shared her plans for the week. She would sign the final divorce papers on Friday and then prepare to leave for New York. "That weekend, 6 February, she was going to hop on a plane and be there for the birth," Itchie recalls.
Shortly after midnight, staying overnight with her parents, Karen went over her to-do list with Frenda Franklin by phone, and finalised plans for the next day. "OK, I am going to drive in. There shouldn't be a lot of traffic," she said. According to Frenda, Karen enjoyed keeping up with traffic reports. "Then we're going to go get the red fingernail polish." The two had a noon appointment for a manicure in celebration of her divorce.
On Friday morning, 4 February, Karen awoke and went downstairs to the kitchen, where she turned on the coffeepot her mother had prepared the night before. She went back upstairs to get dressed. When the coffee was ready, Agnes dialled the upstairs bedroom phone, but its ring, heard faintly in the distance, went unanswered. Agnes went to the foot of the stairs and called to her daughter but there was no response. Entering the room, Agnes found Karen's motionless, nude body lying face down on the floor of the walk-in wardrobe. Her eyes were open but rolled back. She was lying in a straight line and did not appear to have fallen. "She had just laid down on the floor and that was it," Agnes recalled.
The autopsy report listed the cause of death as "emetine cardiotoxicity due to or as a consequence of anorexia nervosa." The finding of emetine cardiotoxicity (ipecac poisoning) revealed that Karen had poisoned herself with ipecac syrup, a well-known emetic commonly recommended to induce vomiting in cases of overdose or poisoning.
Levenkron claimed to know nothing of Karen's use or abuse of ipecac. In their phone calls she assured him she was maintaining her new 7st 10lb figure and had completely suspended use of all laxatives. He never suspected she was resorting to something much more lethal.
In a radio interview taped shortly after Karen's death, Levenkron discussed the autopsy findings: "According to the LA coroner, she discovered ipecac… and started taking it every day. There are a lot of women out there who are using ipecac for self-induced vomiting. It creates painful cramps, tastes terrible, and it does another thing that the public isn't aware of. It slowly dissolves the heart muscle. If you take it day after day, every dose is taking another little piece of that heart muscle apart. Karen, after fighting bravely for a year in therapy, went home and apparently decided that she wouldn't lose any weight with ipecac, but that she'd make sure she didn't gain any. I'm sure she thought this was a harmless thing she was doing, but in 60 days she had accidentally killed herself. It was a shocker for all of us who treated her."
In one of Levenkron's most recent books,
Anatomy of Anorexia
, the author boasts of his above-average recovery rate in working with those suffering from eating disorders. "In the last 20 years I have treated nearly 300 anorexics," he wrote. "I am pleased to state that I have had a 90 per cent recovery rate, though tragically, one fatality." That was Karen Carpenter.
domingo, 25 de septiembre de 2011.

Reportaje: PERSONAJE
La balada más triste de los Carpenters
Diego A. Manrique 25 SEP 2011
Fue la voz del dúo más popular de los setenta. Todo acabó en 1983, cuando Karen Carpenter murió tras soportar los estragos de una enfermedad poco diagnosticada entonces: la anorexia nerviosa, hoy de plena actualidad. Estas páginas recogen los detalles de aquel drama.
En cada casa de ensueño, un corazón roto. "In every dream home a heartache". La canción de Bryan Ferry parece imponerse como melancólico fondo de la historia de los Carpenters. Es un drama con caparazón radiante: el dúo más popular y reconfortante de los setenta, formado por Richard y Karen Carpenter, terminó bruscamente en 1983, cuando ella sucumbió ante una enfermedad entonces poco diagnosticada: la anorexia nerviosa.


Un nuevo libro reconstruye la tragedia:
Little girl blue: the life of Karen Carpenter,
de
Randy L. Schmidt.
Una visión que compensa la pesadilla de
Superstar: the Karen Carpenter story,
el sombrío mediometraje de Todd Haynes donde muñecas Barbie reemplazaban a actores de carne y hueso. Apenas estuvo tres años en distribución, antes de que Richard Carpenter y el sello discográfico A & M consiguieran que fuera prohibido. Haynes no se había molestado en pedir los derechos de sincronización de las canciones. Se supone que prácticamente todas las copias de
Superstar
fueron destruidas, pero, signo de los tiempos, ahora se puede visionar -e incluso descargar gratuitamente- en Internet.
"Ella atesoraba una voz dulce y abundante en recursos; su hermano tenía talento y afición a las drogas de farmacia".
"El marido de Karen se burlaba de su delgadez: "Se te notan todos los huesos". El matrimonio fracasó rápidamente".
Todd Haynes tenía una agenda ideológica evidente: retrataba a Karen como víctima de una familia cruel, una industria voraz y un hermano empeñado en ocultar su supuesta homosexualidad. La realidad es más compleja y amarga, aunque requiere un esfuerzo de la imaginación: los Carpenters representaban esa parte de la generación de los sesenta que sintió los terremotos culturales, pero nunca rompió los lazos con la vida convencional. Hijos de Agnes y Arnold Lynn, los hermanos llegaron al mundo en Connecticut, pero vivieron su adolescencia en un suburbio de clase media de Los Ángeles. Richard, nacido en 1946, estudió música y tocaba teclados. Karen, nacida en 1950, terminó en la batería. Hacia 1966 ganaban un concurso de grupos nuevos con un trío instrumental. Al año siguiente, Karen comenzaba a cantar y, como Spectrum, se hacían un hueco en el circuito nocturno de la ciudad. Asombra saber que ocuparon el puesto de los Doors en el Whisky A Go Go, pero tiene lógica: ambos grupos coincidían inicialmente en la querencia por el jazz ligero y la bossa-nova.


La pareja fue fichada por A & M Records, gracias a la insistencia de la madre ante el trompetista que se escondía detrás de la primera inicial, Herb Alpert. A & M era una compañía sin prejuicios: se había subido al carro del rock contracultural, pero sabía que todavía había gran mercado para el pop light.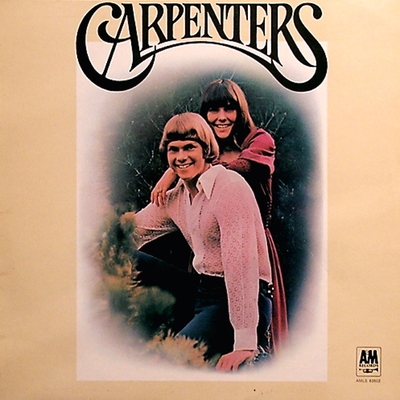 La empresa se fió de los hermanos. Ella tenía una voz dulce y abundante en recursos; él demostró arte para componer, arreglar, producir. Eran chicos sensatos: aunque Richard firmaba abundantes canciones con John Bettis, regularmente renunciaba al ego -y a las regalías como compositor- para dar primacía a versiones de otros autores. Recibieron tratamiento Carpenters temas de Burt Bacharach, los Beatles, Hank Williams o Leon Russell. El olfato de Richard era notable: reconoció material apropiado en un jingle publicitario para un banco y de ahí salió We've only just begun, una de sus piezas emblemáticas. En total, los Carpenters cosecharon unos veinte éxitos. Tenían una imagen propia de la mayoría silenciosa de Richard Nixon: dentaduras perfectas, ropas de buenos estudiantes, maneras educadas. Eran capaces de censurar alguna canción, si les parecía que la letra tenía versos "atrevidos". Y editaban regularmente discos navideños, sin ninguna ironía.


Eso sí: les quemaba que el ambiente musical cool no reconociera el talento que había detrás de sus deliciosas tartas sonoras. Ellos sí que escuchaban atentamente a los demás: Paul McCartney suele contar que, cuando era considerado un apestado por sus primeros trabajos en solitario, fueron Karen y Richard los primeros en llamarle para felicitarle por Band on the run (1973), el disco que permitió su revalorización como creador.


Sin embargo, la consideración de sus coetáneos no era su principal problema. A principios de 1979, la afición de Richard a las drogas de farmacia le llevó a internarse en un centro de rehabilitación. Decidió tomarse el resto del año como periodo sabático y su hermana se encontró con tiempo libre. Karen viajó a Nueva York, donde colaboró con el productor Phil Ramone confeccionando un disco de ritmos bailables que rompía los esquemas del sonido Carpenters. Fue un frustrado intento de emanciparse. De vuelta en Los Ángeles, tanto Richard como el sello criticaron la grabación, que quedó archivada. Aunque los éxitos ya escaseaban, A & M prefería mantener el foco en el dúo en vez de probar con una solista. Aparte del golpe a su autoestima, Karen debió pagar el medio millón de dólares que costó la aventura.


Y aquí es cuando la historia se torna siniestra. Karen no era feliz. La familia Lynn funcionaba como un matriarcado donde Agnes no repartía equitativamente su amor: Richard era el mimado y Karen se sentía postergada. En 1980, ella dejó el nido. Se había enamorado de Tom Burris, un empresario inmobiliario de gran encanto personal y empeñado en casarse. Unos días antes de la boda, Burris confesó que se había sometido a una vasectomía y que Karen no debía hacerse ilusiones de tener descendencia. Mortificada, ella intentó suspender la ceremonia, pero la madre se negó: las invitaciones estaban enviadas, se había convocado a los medios, el escándalo sería mayúsculo.


La boda se celebró el 31 de agosto de 1980 y el matrimonio fracasó rápidamente. En contra de las apariencias, Burris tenía urgentes problemas de dinero y esperaba que Karen los resolviera. Además, se burlaba de su delgadez: "Se te notan todos los huesos". Al año siguiente, la pareja se separaba y Karen se sumergió en el trabajo. Los Carpenters habían resucitado para grabar el que sería su último disco de larga duración, Made in America, y realizar una gira europea. Allí salió a la luz el secreto. En una entrevista televisada por la BBC, la periodista preguntó a bocajarro si sufría "la enfermedad del adelgazamiento". Karen lo negó una y otra vez.
A principios de los ochenta, la anorexia y la bulimia eran trastornos poco conocidos y un tanto vergonzantes. Para el autor de la reciente biografía Little girl blue: the life of Karen Carpenter, aquí obedecían a sus frustraciones emocionales. Karen dependía de su hermano para la dirección musical y no recibía ternura de su madre; solo le quedaba el control de su cuerpo. Y únicamente se veía bella cuando estaba como un palo. En los inicios de su carrera no cuidaba mucho su imagen y algunas cámaras la retrataban rellenita. Un pecado en el show business californiano. Se transformó en una fanática de las dietas y el ejercicio físico: viajaba con máquinas de gimnasio y un entrenador personal. Los resultados fueron brutales: en 1975 bajó a 41 kilos. Tardó en darse cuenta de que su look esquelético resultaba repelente: el público se quedaba boquiabierto al verla sobre el escenario, y hasta un crítico de Variety sugirió que debería aprender a vestirse.


Lo hizo, a su modo: tras exhibir su cuerpo flaco con trajes de noche, se acostumbró a disimularlo poniéndose capas de ropa: camisetas, blusas, jerséis... También se hizo experta en fingir que comía. Y se escondía para tomar el sol: ya no tenía pechos. Pero no pudo engañar a sus músicos, a sus amigos, a su familia. Fue obligada a alimentarse y recuperó volumen. Todo se fue al traste tras el fracaso del enlace con Burris. Durante la gira de 1981 se descubrieron sus malas costumbres: en una farmacia de París se alborotaron cuando ella pretendió comprar cantidades industriales de laxantes; confesó que tomaba unas 90 píldoras purgantes al día. A la vuelta de la gira fue despachada a Nueva York, donde pasaba consulta Steven Levenkron, uno de los escasos expertos en desórdenes alimentarios, autor de un popular libro sobre el tema, The best little girl in the world. Se trataba de un psicoterapeuta, pero no era doctor en Medicina, y puede que Karen le toreara. Aparte de diuréticos, ella utilizaba incluso fármacos para la glándula tiroides que aceleraban su metabolismo.


Al advertir que no mejoraba, Levenkron forzó una reunión familiar en Nueva York. Un fracaso: los Lynn no entendían la enfermedad -"está siendo testaruda para llevarnos la contraria"- y su impotencia generaba ira y sentimientos de culpa. Pero no se llegó a la raíz del trauma. La madre fue incapaz de mostrar en petit comité el cariño que, según Levenkron, Karen necesitaba: "De donde yo vengo no hacemos esas cosas".

El 20 de septiembre de 1982 ingresó en un hospital neoyorquino: padecía deshidratación extrema, y en urgencias se empeñaron en nutrirla por vía intravenosa. A pesar de algún tropiezo para colocar un catéter, el tratamiento logró que Karen volviera a los alimentos sólidos, ganara peso y recuperara la menstruación. El 16 de noviembre volvía a Los Ángeles. La brecha con sus padres había aumentado: se instaló en un edificio de apartamentos para solteros. Aparentaba normalidad. Acudió a la comida del Día de Acción de Gracias, visitó la sede de A & M para anunciar que estaba dispuesta a grabar, se compró ropa y volvió a cuidar su aspecto. Solo alguna amiga y la mujer que limpiaba el apartamento advirtieron que dormía demasiado, como si se desmayara a cualquier hora.


Había pasado la noche en la casa familiar cuando, el 4 de febrero de 1983, su madre la encontró muerta en el suelo. La autopsia determinó que había sido víctima de una parada cardiaca. Demasiado tarde, comprobaron que llevaba meses abusando del jarabe de ipecacuana, un producto que induce vómitos. Efectivamente: en cada casa de ensueño hay un corazón roto.
Old music: The Carpenters – Goodbye to Love (Live at the Palladium)
Going to see the Carpenters might have been a badge of shame – until they started playing and the magic began
BY IAN TASKER Guardian.co.uk, 11 January 2012 .
The Carpenters have never really been cool. Not now, not then, not ever. So on the day I went to see them at the London Palladium in November 1976 I wasn't exactly shouting my attendance from the rooftops. Back then I liked to think (mistakenly as it turned out) that I was pretty cool – preferring the Band to Bread, Santana to Sweet, and the Mahavishnu Orchestra to Mud.
So what was I doing high-tailing down the M1 to see the king and queen of nauseous, sentimental, sugary pop? Three and a half decades later I can't for the life of me recall why, although I do remember the friend who flogged me the tickets telling me he thought the Carpenters' resident guitarist Tony Peluso was as good as Eric Clapton, which had at least got me thinking (mostly that my friend was certifiable).
I wasn't expecting much when Richard and Karen Carpenter, complete with band and orchestra, took to the stage that Saturday night. However, what they served up was about as close to perfection as pop music can get. The highlight of the night – captured for posterity on the album Live at the Palladium – was a 15-minute medley of their hits.
Karen Carpenter's voice was surely one of pop music's finest, and her effortlessly warm and velvety voice was a revelation as she and the band went through
Close to You
,
Only Yesterday
and
Rainy Days and Mondays
. By the time they reached Goodbye to Love I realised it would be safe to admit going to the concert after all.
A melancholic ballad, it is made even more poignant in retrospect. Karen Carpenter was already painfully thin and would die of heart failure brought on by anorexia in 1983. In her short life she apparently never found true happiness so to hear her sing the lyric "all I know of love is how to live without it" is, for a softie like me at least, heartbreaking.
However, as the medley moved to its conclusion something quite amazing happened. From out of the assembled ranks of orchestra and band members a guitar player abruptly stood up, taking the spotlight to play a terrific solo that surely should have been a feature anywhere else but in a Carpenters song.
Tony Peluso might not have been as good as Clapton, he might not even have been terribly cool, but he and the Carpenters won at least one new fan that night.
Karen Carpenter: 29 years later
KAREN CARPENTER

FEBRUARY 6, 2012

BY: HEIDI DALZELL
February 4 marked 29 years since her angelic voice was silenced by anorexia. In the early 1980s few people had heard of anorexia.Karen Carpenter fought a courageous, but ultimately unsuccessful battle with the illness, dying at age 32. Her death provided a front-page view into the painful and dangerous world of eating disorders. It also allowed others with eating disorders, includingPrincess Di and Tracey Gold, to go public with their own struggles.
Karen and Richard Carpenter were one of the most successful singing duos in music history. The Carpenters had 23 hit singles including We've Only Just Begun, Close to You, and For All We Know. They sold over 80 million albums. But as the beautiful musician sang Top of the World, it was evident that she was not.
The Early Years
Karen Anne Carpenter was born in New Haven Connecticut on March 2, 1950. As a girl, she was athletic, a tomboy. The family moved to Downey, California, a suburb of Los Angeles, when Karen was 13, in order to provide more opportunities for her brother Richard, a gifted pianist. Karen's musical talents leaned more toward percussion, and she joined the school band, playing the glockenspiel. The band director was reluctant to allow Karen to join the drum line, which was virtually unheard of for a female. She persisted, and the drums became her passion. Karen was a perfectionist who practiced drumming several hours a day.
Karen was a "chubby" child and teen. In an interview with People magazine following Karen's death, Richard described her love of food — tacos and chili. A petite, 5'4", Karen was at the higher end of normal range at 145 lbs. At 16, Karen signed with an independent record label. Shortly thereafter, at 17, Karen went on her first diet, losing 25 lbs.
Despite her early success and record contract, Karen lacked confidence in herself as a musician. She saw Richard as the musical prodigy and herself as the "tagalong." According to those close to her, this view was reinforced by Karen's family.
Musical Success and Struggles with Anorexia
Karen and Richard signed with a bigger label, Herb Alpert's A&M records in 1969. A&M encouraged the duo's creativity. Karen served as the band's drummer, as well as its lead singer. Their 1970 release, Close to You, featured two big hits, the title track and We've Only Just Begun.
The label eventually persuaded Karen to come out from behind her drum set, and take center stage, an awesome feat for someone who saw her drum set as a security blanket. She expressed fears of not being good enough, slim enough, or pretty enough. Karen had limited control over what she would sing or how the band ran, leaving those decisions to her brother and the record label. People close to Karen describe her as a people-pleaser, a sensitive young woman who worked hard to keep others happy. These factors triggered her descent into unhealthy dieting, and ultimately anorexia.
As Karen's condition worsened, worried fans looked on. In the People Magazine interview, Richard said, "Although her voice was never affected, you could hear gasps from the audience when she came onstage, and there was considerable mail from fans asking what was wrong. Eventually, though, my parents and I realized that there was nothing we could do except state what was on our minds. We never knew how to help her." The family hoped that Karen's quest for weight loss would reverse itself.
Karen went through a period of many years in the mid 70s in which the disease was active. Although people tried to intervene, the cycle of losing, and continuing to lose continued. Karen was medically hospitalized several times. The doctors' advice —just eat — did not help.
Seeking Help
Karen became concerned about her weight loss and began to embrace the idea that she had anorexia. She reached out to Pat Boone's daughter, Cherry Boone O'Neill, who had authored a book about her own struggles with anorexia, Starving for Attention. "She didn't sound panicked, but she felt that she really needed some help," Cherry says. "Karen was having particular problems with laxatives. She could not believe she could ever get to a point where she was not dependent on them." O'Neill, who herself had often taken laxatives by the box to "drop 10 or 15 pounds overnight," urged her friend to "get away from the pressures of L.A. and show business and concentrate on her own life and survival." Karen told Cherry: "I'm going to do it. I'll get well—it's just so damn hard."
Karen moved to New York to work with Steve Levenkron, author of The Best Little Girl in the World, and one of the first psychotherapists to treat anorexia. Her family wasn't in favor of the treatment, not recognizing the psychological aspects of the disease, which was not unusual in the 1980s. Karen and Steve worked intensively in therapy for about 6 months.
Despite Karen's best efforts, her weight continued to decline, and she was again hospitalized in 1982 after dropping to 80 lbs. The hospitalization focused only on re-feeding — the process of allowing her to gain weight. Karen was put on a hyperalimentation regimen. She was discharged from the hospital two months later at a healthier weight of 110. It is likely that the re-feeding put stress on a body and heart already weakened by years of self-starvation, and ipecac, laxative and thyroid pill abuse.
Hope Lost
With Karen's increased weight came a renewed sense of optimism. Karen returned to Los Angeles where she and Richard began recording Voice of the Heart, their 12th album.
Karen collapsed at 9:00 AM on the morning of February 4, 1983, the result of a cardiac arrest. Autopsy results revealed that the heart failure was due to ipecac poisoning. Ipecac is an emetic used to induce vomiting in cases of overdose or ingestion of something toxic. When used improperly, such as a form of purging, ipecac use can lead to severe dehydration and low blood pressure. An overdose can be fatal.
Karen's death was mourned by fans all over the world and by those who still love her music. Her passing reminds us of the seriousness of eating disorders. They are not vain efforts to loser weight, but are significant problems that can be life-threatening.
RICHARD CARPENTER COMPARTE SUS APUNTES SOBRE SU CARRERA EN LA INDUSTRIA MUSICAL
23 de abril de 2012, 1:25 pm
en
A&E
Music
Richard Carpenter, el multipremiado con varios premios grammy compositor, productor, arreglista y parte del dinámico dúo de hermanos, Los Carpinteros, está listo para hablar con los estudiantes de la UCLA como invitado a la charla del profesor David Leaf: "escribir canciones: éxitos rompedores, Canciones Esenciales y compositores de la era del rock". Carpenter habló con el Daily Bruin acerca de la dirección de la música, su carrera y cómo triunfar en la industria musical.
Daily Bruin

: ¿Puedes hablar un poco sobre tu carrera y cómo empezaron Los Carpinteros?.
Richard Carpenter

: Bueno, para hacer de una larga historia algo rápido de explicar, Karen y yo grabamos una demo. Nos encontramos con un tipo llamado Joe Osborn, un músico de sesión que tocaba el bajo eléctrico en la Costa Oeste. Él tenía un estudio en su garaje y fuimos a conocerlo. Karen y yo hicimos las pistas, y de vez en cuando él tocaba el bajo. Empleamos la técnica que se conoce con el término Ping-Pong si usted sabe de lo que estoy hablando, porque sólo estás trabajando con cuatro pistas, y aquí están todas estas voces, como 12... Fue una demo bonita y muy bien hecha. Fue rechazada por casi todas las compañías de la ciudad, pero Herb Alpert lo escuchó y pensó que había algo allí, así que firmamos con A & M en abril de 1969. El primer sencillo, al menos entró en las listas. Eso es más de lo que la mayoría de los discos debut logran hacer, pero no fue un éxito. El segundo, que salió en mayo de 1970, fue un éxito monstruoso. Eso fue todo. Era difícil de describir. Creíamos que teníamos lo necesario y no nos dimos por vencidos. Luego, por supuesto, comienzas a preocuparte por cómo vas a continuar con tu carrera, como todo artista.
DB
:
¿Ha trabajado con algúnos artistas famosos en particular?.
RC
:
Abrimos shows por un tiempo como teloneros hasta nuestro tercer disco de oro. Burt Bacharach quería que abriésemos el show para él y que hiciese lo mismo Henry Mancini. No había mucho aforo de gente, porque dentro de poco fuimos cabeza de cartel en nuestros propios shows, por lo que entonces había otras personas abriendo el espectáculo para nosotros.
DB

: ¿Cuál cree usted que es la lección más importante que ha aprendido después de estar en la industria durante tanto tiempo?.
RC
:
Bueno, tienes que creer en ti mismo. Vas a tener éxitos y vas a tener fallos. Tienes que trarar de mantener la cabeza sobre los hombros cuando eres tan joven como nosotros, y de repente eres mundialmente famoso. No dejar que se te suba a la cabeza.
DB
:
¿Qué consejo le daría a los aspirantes a músicos?.
RC
:
Si una persona tiene una maqueta, que esta debe ser de no más de dos canciones. Ningún productor quiere conseguir una demo que cuente con 10 canciones. No debe ser de más de dos canciones con las que tú sientas que mejor representan tu manera de cantar... o la forma de escribir. Hay que ser tenaz. Tienes que estar preparado para que te den con las puertas en las narices, y eso es todo. Siempre ha sido un negocio duro, pero es aún más difícil ahora.
DB
:
¿Qué piensa usted de cómo la música ha cambiado en los últimos 10 o 15 años?.
RC
:
No me gusta. La razón principal por la que no me gusta es porque no es musical. Todo, con raras excepciones, se hace con máquinas. La melodía casi ha desaparecido. Todas las voces se envían a través de un sintonizador automático... Incluso si es sólo un poco, yo lo puedo decir. Incluso en los años 50, cuando el rock pasó de ser una corriente sub rosa a ser la corriente principal, muchos de los grupos que hicieron estas canciones eran aficionados. Pero eran canciones pegadizas, y en cierto modo, eran músicos. Ahora en la actualidad lo que escucho me recuerda cómo si fuera un robot el que canta.
DB
:
¿Está trabajando en algo nuevo?.
RC
:
He terminado como 10 nuevas canciones, piezas navideñas. Finalmente encontré a alguien a quien realmente puedo hacer justicia, porque es difícil encontrar un cantante honesto que hoy en día pueda cantar melodías tradicionales. Voy a ir al estudio pronto.
A & M Records 50º Aniversario
21 Jul 2012 // by:
VVN Music
El Músico Herb Albert y el empresario de la música Jerry Moss están detrás de A & M Records. La Etiqueta, Que Ahora es parte de Universal, ha llevado las carreras de tantos y tantos artistas pioneros.
Ahora, Por el 50 aniversario del sello, algunos de los músicos más notables de A & M se han sentado a hablar de sus recuerdos favoritos.
Sting Recuerda A & M con cariño, con el grupo THE POLICE firmó con el sello allá por los años 70. Agradeció públicamente la buena relación que tenía con el sello discográfico.
Yusuf, antes conocido como Cat Stevens, dice que su época más prolífica fue mientras nadaba en casa de Jerry Moss en Malibu. De hecho, fue en ese momento cuando el cantante decide convertirse al Islam.
La caja de 3 CDs A & M: La Colección Del 50 Aniversorio, con lo mejor de la música de la dicográfica en los últimos 50 años, ha sido preparada por Alpert y Moss y ya está disponible a través de Universal.
Era el año 1962 y la ubicación era en Hollywood. Herb Alpert y Jerry Moss comenzaron con A & M Records, lanzando su nuevo sello con The Lonely Bull por Herb Alpert And The Tijuana Brass.
En Poco Tiempo, su sello cobro una fuerza importante en la industria musical. Ahora lo celebran con el nuevo CD A & M 50: La Colección Aniversario.
La lista de artistas que se unieron a la discográfica abarca desde el pop suave y melódico de The Carpenters y Sergio Mendes, pasando por Supertramp y The Police, Chuck Mangione o Quincy Jones.
"Queríamos hacer un buen disco recopilatorio", dice Herb Alpert, reflexionando sobre la génesis de la etiqueta. Ese era nuestro objetivo.
Disco 1

The Lonely Bull ' Herb Alpert & The Tijuana Brass
Mas Que Nada ' Sergio Mendes & Brasil '66
You Were On My Mind ' We Five
The More I See You ' Chris Montez
(Your Love Keeps Lifting Me) Higher and Higher ' Rita Coolidge
A House Is Not A Home ' Burt Bacharach
(They Long to Be) Close To You ' Carpenters
Wild World ' Cat Stevens
Don't You Want Me ' The Human League
Love Will Keep Us Together ' Captain & Tennille
Whatcha Gonna Do ' Pablo Cruise
Sun Down ' Lani Hall
Baby Baby ' Amy Grant
I Just Wanna Stop ' Gino Vannelli
Luka ' Suzanne Vega
The Lady in Red ' Chris de Burgh
Love and Affection ' Joan Armatrading
Red Red Wine ' UB40
Diamonds and Rust ' Joan Baez
Rise ' Herb Alpert
All I Wanna Do ' Sheryl Crow


Disco 2


Roxanne ' The Police
The Letter ' Joe Cocker
All Right Now ' Free
Jackie Blue ' The Ozark Mountain Daredevils
30 Days In the Hole ' Humble Pie
Steppin' Out ' Joe Jackson
Hot Burrito #1 ' The Flying Burrito Brothers
Conquistador (live) ' Procol Harum
Come Sail Away ' Styx
I Got You ' Split Enz
Tempted ' Squeeze
Show Me The Way ' Peter Frampton
Run To You ' Bryan Adams
Love Hurts ' Nazareth
The Logical Song ' Supertramp
Caught Up in You ' 38 Special
Don't You (Forget About Me) ' Simple Minds
Black Hole Sun ' Soundgarden
If You Love Somebody Set Them Free ' Sting
Disco 3


Back in Love Again ' L.T.D.
Black Pearl ' Sonny Charles & The Checkmates Ltd.
Europa ' Gato Barbieri
I'll Be Good to You ' The Brothers Johnson
Everybody Plays The Fool ' Aaron Neville
Will It Go Round in Circles ' Billy Preston
Bridges ' Milton Nascimento
Feels So Good ' Chuck Mangione
Livin' It Up (Friday Night) ' Bell & James
Wave ' Antonio Carlos Jobim
On The Wings of Love ' Jeffrey Osborne
Summertime ' Paul Desmond
Stuff Like That ' Quincy Jones feat. Ashford, Simpson & Khan
Secret Lovers ' Atlantic Starr
Crazay ' Jesse Johnson feat. Sly Stone
Amorous Cat ' Stan Getz
Finally ' CeCe Peniston
Practice What You Preach ' Barry White
Skokiaan ' Herb Alpert & Hugh Masekela
When I Think of You ' Janet Jackson
DONNIE DEMERS
Songwriter, pianist and record producer
How The Carpenters Fan Club Changed My Life
01/31/2013
A wise person once told me, "The past is a nice place to visit, but you don't want to live there." I understood what that meant, but frequent visits sure do go great with a quad espresso and a snowy Sunday morning.
For many of us growing up in the 1970's, long before ADHD was the 'diagnosis du jour,' it wasn't uncommon for youngsters to belong to fan clubs. There were fan clubs for just about everything; your favorite recording artist, movie or television star, or even that chiseled athlete or voluptuous model. I seem to recall Mr. Peanut from the Planters Peanut brand even having a fan club! Fan clubs were often sanctioned by the objects of our affection (or their representatives) allowing us the unique ability to receive first hand information from those icons that we faithfully and unequivocally worshipped and supported. For me, it was The Carpenters fan club, more specifically, Karen Carpenter.
It's difficult to imagine that on February 4, 2013, it will be thirty years since the world lost Karen Carpenter. At just 32 years of age, it was heart failure (brought on by the eating disorder anorexia nervosa) that silenced (arguably) one of the most gifted female vocalists of all time. Along with her brother Richard, Karen Carpenter dominated 1970's radio with a sound that is still coveted by many of today's top music makers, not to mention millions of lifelong, diehard fans like myself.
I was no more than 9 or 10 years old when I first heard 'the voice' of Karen Carpenter. Sitting in a barbershop chair in Worcester, Mass., I desperately fought back tears that were beginning to fill my eyes. Sadly, those tears were not triggered by Karen's extraordinary vocals, nor were they for Richard's masterful arrangements; they were in fact, the direct result of having my hair chopped off against my pre-pubescent will.
In those days, it was the opinion of a lot of young boys that the longer your hair grew, the cooler you became. I must have been pretty cool up until that day (or so I thought), as my hair was now resting upon my shoulders, parted perfectly in the middle of my forehead. All of that, however, was about to change. Before my eyes, I watched that "hipster halo" land below my feet, now just a pile of dirty blonde locks. With every attempt to block out the sound of those vicious scissors racing around my ears, I suddenly began focusing my attention on what was coming out of that little transistor radio in front of me, wedged between an assortment of clippers and combs.
There was a calming in the singer's voice; a rich and velvety timbre that soothed my breaking heart. I had never heard anything like it before. Similar to the first time I heard the sound of a piano, the experience felt life-altering. I believed her when she sang those lyrics to me, "on the day that you were born the angels got together and decided to create a dream come true." Okay, I was a gullible kid and (now that I think about it) probably not fit to carry a superlative of any kind, let alone one with the word "cool" in it. Nonetheless, with every note she sang, I longed for more until the song began to fade out ... as did the sound of those annoying clippers. My haircut was finished. Riddled with a look of shock on my face from the buzz in my cut, no doubt my Dad had felt my pain so he agreed to take me across the street to Zayre's Department Store where I would purchase the record I heard on that radio. That was the day my life took an unexpected turn ... I fell in love with Karen Carpenter.
I couldn't wait to get home to spin that record. I played it so many times that the vinyl started to wear and the record began to skip. That's when I found out there were more Karen Carpenter records! Two albums and a few singles. I spent every penny I had buying all of them.
I joined the Official Carpenters Fan Club after finding the address in one of those teen magazines. I can actually recall the excitement that raced through my body when my mom handed me that large manila envelope. I had just gotten home from school and all I wanted to do at that point, was to get ready for my favorite television show, Dark Shadows. Barnabas Collins had just been double crossed by Angelique the day before, and I was afraid that he would be trapped inside his coffin forever! I glanced at the envelope which was stamped, "DO NOT BEND" in bright red. Then I saw the return address which was stamped in bold blue ink -- "CARPENTERS FAN CLUB." Suddenly, Barnabas could wait. I opened the package and inside of it was a black and white 8x10 photograph of Karen Carpenter and one of Richard Carpenter. There was also a membership card with my name on it and a bright colored flyer featuring illustrations of fan club memorabilia available for purchase. They offered cool things like a Daisy keychain for 25 cents and a large white pennant with a bright orange logo for $1.25. There were also giant-sized posters, pencils and even a gold Florentine pen. All of the memorabilia had their cool Carpenters logo on it! The real prize, though, was the one that was neatly folded and tucked inside the envelope; a hand-written welcome note from someone who would end up leaving an indelible mark on my life forever, perhaps even more so than Karen Carpenter.
Her name was Evelyn, "Ev" as she often signed at the end of her monthly 'Carpenter newsletters.' Ev was not just a dutiful, middle aged personal assistant to Karen and Richard Carpenter; she was also the Fan Club concierge. Administering the daily activities of an increasingly popular fan club, as well as handling the daily schedule of her employers, surely must have been daunting tasks for Evelyn Wallace, yet somehow she made it her mission to make sure that I would never feel a disconnect with my idols. Her personal note to me was one of many more that I would receive over the next several years.
It wasn't uncommon for me to come home from school and find an unsolicited package waiting from Ev; be it an autographed photo or record, or sometimes a box of chocolates for a particular holiday or oftentimes, a greeting card just to let me know that I was being thought of. It didn't stop there either. Each time the Carpenters returned to the New England area to perform (they were born and raised in New Haven, Conn.) Evelyn would arrange for me to go backstage so that I could say hello and have my photograph taken with them. I'm not going to lie, I felt so very special. Those pre-teen and teenage years can be excruciating for kids, myself included, so when someone you've never met has validated your existence with VIP treatment, you can't help but feel extra special.
To my surprise, many years later (with the advent of Facebook) I began to find out that I was not alone. My VIP treatment wasn't an isolated situation; Evelyn had left her benevolent handprint on the lives of countless other Carpenters fans as well. I found myself reading stories about exact scenarios that I had experienced, often resulting with the same debt of gratitude. Evelyn clearly understood that we were young people first; not just "fans" who worshipped her employers, but that we were human beings with energized feelings (often hazed and misunderstood) and that our quest for an autographed 8x10 was likely more of a cry to be accepted, to be understood and ultimately, to be loved. Evelyn recognized her unique position and with it, she empowered so many of us with confidence, with affirmation and yes, even with love.
Thankfully for me, I hit the jackpot when I joined the Carpenters Fan Club because I got a lot more than posters and pens, I got "Ev."
On February 2nd, Evelyn Wallace will celebrate her 91st birthday. I am happy to report that she is still inspiring me and the countless other lives that she has touched along her long and glorious way. Happy Birthday Ev!
I hope that anyone who reads this has an "Evelyn Wallace" in their life because she sure has made all the difference in mine.
Karen Carpenter: All She Needed Was Love
Thirty Years After Her Death, Karen Carpenter's Life Remains An Enigma.
Escrito por:
Joel Samberg para the Downey Patriot
DOWNEY

- Muchos de nosotros ya estábamos familiarizados con la talentosa cantante y artista consumada. Pero no nos olvidemos de la hambrienta de amor romántico y la presa confiada. La hija obediente y hermana conflictiva. La maga torpe, bufón impredecible, modesta millonaria, soñadora optimista, inestable emocional, mentirosa fugaz, y amiga un poco payasa y bromista. Tampoco debemos pasar por alto la enferma de anorexia y el icono condenado.
Esto es una cosa que sabemos con certeza: todas murieron hace 30 años, el 4 de febrero de 1983, cuando ella tenía sólo 32 años de edad.
Esto puede ser algo más que un ejercicio retórico, entre 1970 y 1982 hubo cientos de fotografías tomadas, decenas de videos promocionales producidos y un sinnúmero de perfiles medios publicados de The Carpenters, el grupo musical liderado por Karen, pero dirigido por su hermano mayor Richard, y si se va a examinar sólo una fracción de este material te darías cuenta de que la apariencia de Karen, su estilo, técnicas de interpretación, al parecer, incluso su personalidad y actitudes parecen haber cambiado más veces en 12 años de lo que la mayoría de nosotros cambiamos en 30. ¿Cómo pueden todos esos cambios no ser una consecuencia de las muchas karens que existían?.
El 30 º aniversario de la muerte de Karen Carpenter es un buen momento para hacer un poco de exploración de su vida y su carrera, ya que un examen superficial muestra que algo está pasando:
*

El número de sitios web dedicados a los Carpenters (algunos sólo a Karen) parece crecer cada año, con esos nombres de dominio actuales como:

karencarpenter.com, mostbeautifulvoice.com, leadsister.com

y

richardandkarencarpenter.com.

Incluso hay una nueva página de Facebook llamada IHeartTheCarpenters dedicados a conmemorar el 30 aniversario de la muerte de Karen
*

El Autor Randy Schmidt publicó una biografía cariñosa y comprensiva en 2010 llamada

"Little Girl Blue: La vida de Karen Carpenter".
*

El año pasado, una comedia musical satírica que se interpretó en Los Angeles, llamada

"¿Estás ahí Dios? Soy yo, Karen Carpenter",

fue inspirada por un libro de Judy Blume y utiliza dos docenas de canciones de Carpenters en la partitura.
*

Homenajes que ofrecen a jóvenes que tratan de reproducir la voz translúcida de Karen como un espectáculo en California llamado

"Close to You"

, un programa en Florida llamado

"The Carpenters Tribute Show"

, y una banda en Inglaterra llamada

"Carpenters magic"

.
*

Miles de vídeos de YouTube acerca de The Carpenters se actualizan a diario con entusiastas comentarios.
Tal vez no es un resurgimiento del dúo, pero no se puede ignorar, tampoco.
No es ningún secreto, -al menos no para muchos de sus fans-que Karen Carpenter tuvo problemas con su madre, por las cuestiones de carrera, problemas de autoimagen, de autoestima y tal vez media docena de problemas más por medio. Casi todos sus compañeros más cercanos insisten en que ella hacía payasadas alrededor constantemente, tenía una inclinación por juegos de palabras tontas, y un maravilloso sentido del humor, nunca dudó en ayudar a un amigo, y le encantaban los niños. De hecho, la mayoría de las cosas que amaba eran el hecho de que la vida existe. Pero ella estaba terriblemente incómoda con la suya. Lo cantaba en un éxito de un single de 1974: "Día a día debo enfrentarme a un mundo de extraños al que no pertenezco."
Es evidente que lo decía en serio.
Mientras estaban juntos, los Carpenters sacaron 11 álbumes y 30 singles, se embarcaron en varias giras en los EE.UU., Inglaterra, Australia, Bélgica, Holanda y Japón, aparecieron en docenas de programas de televisión de la época y se convirtieron en fabulosamente ricos. Sus hits fáciles de escuchar eran un boom instantáneo perdurando en el tiempo:

"Close to You", "We've only just begun", "For all we know", Rainy Days and Mondays ", "Superstar", "Hurting Each Other", "It's going to take sometime", "Goodbye to Love "

. Y eso es sólo en los primeros dos años y medio.
La resonante voz de contralto de Karen (que en realidad se extendió más de tres octavas) fue ampliamente considerada como beatífica, impecable, conmovedora, tan joven como era, parecía tener la capacidad para explotar las emociones de las historias que ella cantó con la exploración de los sentimientos y de las emociones que normalmente se encuentran en las personas más mayores, y luego colorear cada canción con esas emociones.
Por supuesto que no todo el mundo es un verdadero creyente y, de hecho, pese a todos los fans leales que hay, tal vez tres o cuatro personas dicen sentir un verdadero desdén por Karen y Richard Carpenter y lo que representaban musicalmente. Pero hay un montón de fans-y no sólo los tipos cotidianos-, sino algunos de los músicos más respetados de la industria de la música. A través de los años, en varias entrevistas publicadas en medios impresos y online, el elogio de Karen Carpenter ha sido poco menos que sorprendente:
Elton John: "Ella tiene una de las grandes voces de nuestro tiempo."
Paul McCartney: "La mejor voz femenina en el mundo: melódica, armoniosa y distintiva."
Madonna: "Karen Carpenter tenía la voz más pura, claro que estoy totalmente influenciada por su sensibilidad armónica".
Gwen Stefani: "No importa cuántas veces la escuches, todavía pone la piel de gallina cuando la escuchas cantar".
Robert Hilburn (ex Los Angeles Times, crítico de música pop): "La atracción para mí era la intimidad y la calidez de la voz de Karen-una mezcla extraña pero seductora de la inocencia y la melancolía."
¡Y Hilburn fue uno de aquellos a los que ni siquiera le gustaban The Carpenters!.
Elogios, pero había un montón de problemas, también.
En 1979, cuando Richard se tomó un tiempo libre para hacer frente a una adicción de Quaalude, Karen realizó un álbum como solista. Su productor fue el legendario Phil Ramone. El álbum era una mezcla muy lograda de la música disco y el jazz de la que tanto Karen y Ramone estaban justificadamente orgullosos. Pero a Richard y a los ejecutivos de A & M Records no les gustó el resultado, y el álbum

"Karen Carpenter"

fue abandonado. (Richard lo lanzó al mercado en 1996, 13 años después de la muerte de su hermana). Grabar ese álbum fue, con mucho, lo más decisivo que Karen intentó por su cuenta, según la mayoría era algo que necesitaba urgentemente hacer por su autoestima.
Pocos meses después de la decepción que conoció, se casó con un promotor inmobiliario apuesto y exitoso con el nombre de Tom Burris. El dijo que era un empresario de bienes raíces con éxito. Burris terminó yendo a por la mayor parte del dinero de su esposa, y se olvidó de decirle que se había sometido a una vasectomía. Karen casi más que nada en el mundo, quería tener hijos. Ella le gritó a su madre que no quería seguir adelante con la boda. Pero Agnes carpenter le dijo: "Has hecho tu cama, Karen. Ahora tendrás que estar en ella".
Karen obedeció. Hubo boda. Pero el matrimonio, al igual que el álbum en solitario, fue dejado de lado.
"Creo que es seguro decir que si Richard Carpenter y la gente de A & M hubieran estado detrás de Karen apoyándola con el álbum en solitario, se habría ganado una muy necesaria confianza", dice el biógrafo Randy Schmidt. "Y si esto hubiese sucedido, no habría estado tan loca por casarse. Juntos, el álbum en solitario y el fiasco matrimonial eran dos duros golpes que la enviaron a ella a la depresión más profunda de su vida."
Con esta historia en mente, y hay muchas otras igualmente angustiosas, no debería ser ninguna sorpresa que Karen desarrollase hábitos que a la larga resultaron en un corazón destrozado con un daño permanente. Pero la verdad es que Karen Carpenter fue probablemente dañada mucho antes del álbum descartado y el matrimonio roto. Es muy probable que ella arraigase problemas psicológicos desde la infancia, y pudo haber estado emitiendo señales de ello durante años. Pero ella era tan bromista, tan esperanzada y tan dedicada a su arte que casi nadie tomó en serio los sintomas en los primeros días de The Carpenters.
Algunos lo hicieron.
El legendario baterista Hal Blaine se acuerda de cuando conoció a Karen cuando tenía 16 años de edad, tres años antes de la aparición del primer álbum de Carpenters, cuando ella y su hermano estaban tratando de establecer algunas relaciones profesionales en la escena musical del sur de California. Blaine recuerda que Karen siempre le pareció un poco melancólica. "Yo nunca la vi en la cima del mundo". "Ella era muy difícil de entender." Blaine, un miembro de la denominada banda de sesión Wrecking Crew que apoyó los Beach Boys, The Mamas and the Papas y otros grupos superiores de los años 1960 y 70, con el tiempo fue contratado para muchas de las sesiones de grabación de los carpinteros. Karen, una baterista experta , cogió las baquetas en tantas grabaciones y conciertos como pudo, pero el público quería verla cantar al frente del escenario, y en última instancia, es donde ella terminó la mayor parte del tiempo.
"Ella era un amor," dice Blaine. "Incluso tenía un conjunto de tambores hechos por ella, pero yo nunca la vi reirse con una gran carcajada".
A menudo se afirma-y parece bastante seguro que es verdad-que Karen prefiere tocar la batería en lugar de ser la cantante principal no sólo porque le encantaba el instrumento y tenía una facilidad increíble para él, sino también porque le daba algo para esconderse. De niña y adolescente nunca fue delgada. Probablemente no pensó mucho acerca de su físico durante sus años de desarrollo. En algunas escenas de los conciertos tempranos es notablemente más ancha de caderas y más amplia en los hombros que en los años posteriores. Pero no fue sólo su apariencia lo que hizo que Karen decidiese perder tanto peso como fuese posible.
Como casi siempre, el problema puede deberse a problemas de control. Por las razones que fuesen, Karen dejó a su madre controlar sus sentimientos de autoestima y a su hermano controlar su carrera. Así que decidió controlar lo único que podía controlar: su aspecto físico y la forma en la que se veía o la veían los demás.
Una noche, en febrero de 1983 Karen dormía en la casa de sus padres, en una habitación del segundo piso. Ella había ido de compras con su madre esa tarde y se iban a ir a comprar más cosas al día siguiente. Agnes llamó a su hija para que bajara al piso de abajo, pero no hubo respuesta. Subió y encontró a Karen desmayada en el suelo del vestidor. Como se determinó después, Karen había estado tomando grandes dosis de jarabe de ipecacuana por algún tiempo, un medicamento utilizado para inducir el vómito. Cada dosis se disuelve en el músculo del corazón poco a poco. Karen tenía un montón de corazón, pero el que ella necesitaba para seguir con vida estaba literalmente desapareciendo.
Treinta años han pasado. Sabemos un poco más acerca de la anorexia nerviosa, pero no mucho más sobre Karen Carpenter. Sin embargo, los nuevos descubrimientos que hacemos, se hacen cuando nos centramos en algunas de sus más famosas canciones. "Nunca a nadie le importó si yo debía vivir o morir". "Una y otra vez la posibilidad de encontrar el amor ha pasado de largo, y todo lo que sé del amor es como vivir sin él", canta en "Goodbye to Love". En "Only Yesterday" dice que: "En mi tiempo nadie sabía el dolor por el que estaba pasando, y esperar era todo lo que mi corazón podía hacer".
La propia canción favorita de Karen, grabada en 1976 y escrita por Richard, John Bettis y Albert Hammond, es una canción llamada

"I Need to Be in Love"

, un título que en realidad puede servir como una leyenda biográfica. Al igual que con todos los demás, ella canta con convicción, triste. Esa convicción puede ser: "Así que aquí estoy con los bolsillos llenos de buenas intenciones, pero ninguna de ellas me consolará esta noche. Estoy despierta a las cuatro de la mañana sin un amigo a la vista. Estoy colgando de una esperanza, pero estoy bien ".
Esas letras hablan por si solas. El volumen no era quizás lo suficientemente alto.


Página Negra Karen Carpenter:
La niña

con

el

corazón roto
JORGE HERNÁNDEZ S. - Actualizado el 14 de julio de 2013 a:
12:00 a.m.
Era flaca como un palo. Ingería cantidades industriales de laxantes, hasta 90 píldoras purgantes diarias. Quería vomitar a su madre porque esta amaba más a su hermano Richard.
La fama y el dinero llegaron juntos; vendió casi 100 millones de discos y colocó 20 éxitos en los años 70 del siglo pasado, pero la prensa la trataba de "gordita", "rellenita", "pasada de peso".
Su autoestima cayó por el piso; ahí la encontró su madre la mañana del 4 de febrero de 1983. Karen Carpenter, baterista y cantante del dueto The Carpenters, pesaba apenas 85 libras y era un costal de huesos.
Murió a los 32 años, víctima de una enfermedad que en esos años era desconocida: la anorexia nerviosa. Ese día tenía cita para firmar el acta de divorcio que la separaría de Tom Burris, un buscavidas que la engatuzó para sacarle dinero y pagar sus deudas. Burris disfrutaba diciéndole: "se te notan todos los huesos".
Aunque la noticia causó estupor, todos la veían venir, porque Karen cada día estaba más escuálida y tomaba dosis industriales de jarabe de ipecacuana, una planta utilizada para inducir el vómito.
Aquella mañana Karen estaba en la segunda planta de la casa de sus padres, en Downey –California–. De pronto, un golpe seco contra el piso alertó a su madre Agnes, quien subió a trompicones la escalera y la encontró tirada en el suelo, fulminada por un paro cardíaco.
El padre, Harold, el ama de llaves y Richard intentaron, en vano, revivirla. Los paramédicos se la llevaron al Downey Community Hospital y 20 minutos después, la declararon muerta.
Sobre la bandeja metálica de la morgue, el forense Dr. Ronald N. Kornblun, abrió el cadáver para realizar la autopsia y le llamaron la atención las múltiples marcas de agujas, indicios de la alimentación intravenosa practicada unos cinco meses antes del deceso.
En el reporte No 83-1611 el médico certificó que la causa de la muerte fueron "irregularidades en los latidos causados por desequilibrios químicos asociados con la anorexia nerviosa". Tenía ocho años de padecer esa enfermedad.
Una madre controladora; un padre desinteresado y un hermano egocentrista hicieron de su vida una pesadilla
Los padres de la cantante rechazaron el informe forense; alegaron que en el apartamento de Karen no había rastros ni frascos vacíos de ipecacuana. Richard aseguró que su hermana nunca consumió ninguna sustancia que pudiera dañar sus cuerdas vocales, y que solo tomaba laxantes "para regular el peso."
Una madre controladora; un padre desinteresado y un hermano egocentrista hicieron de su vida una pesadilla. Así lo reveló Todd Haynes en la película de 1987
Superstar: The Karen Carpenter Story
, cuyas copias fueron destruidas por orden de un juez, pero algunas sobrevivieron en la Internet. La película fue retirada de cartelera porque Haynes carecía de los derechos sobre las canciones difundidas en la cinta.
Basado en ese filme de 43 minutos, que utiliza como actores a la muñeca Barbie y Ken, Randy L. Schmidt escribió
Little girl blue
. También Biography A&E produjo un "biopic" sobre la dramática existencia de
Karen Carpenter
.
El juguete preferido de Karen era la batería, tanto que para eximirse de sus clases de geometría y gimnasia aprendió a tocarla en la banda del Downey High School. Pero fue su voz angelical lo que la proyectó a la galaxia musical.
Karen nació en New Haven, Connecticut, el 2 de marzo de 1950, en el hogar de Agnes y Harold Carpenter, metodistas que ya tenían a Richard, un niño de tres años. En su corta vida Karen solo deseaba tener la aprobación de su estricta madre y de su exigente hermano.Harold era poco afectuoso con los niños pero compartía con ellos su pasión por la música; los tres disfrutaban en el sótano casero, tirados en una hamaca de la amplia colección de discos del padre; desde ritmos populares hasta obras clásicas.
Si bien Richard mostró muy temprano su talento para el piano y Karen prefería salir a jugar softball con los amiguitos del barrio, ambos eran muy unidos y adonde iba uno, caminaba el otro.
Para desarrollar el talento de Richard, la madre decidió que todos debían marcharse a California; vendieron la casa y dejaron a los amigos para establecerse en un suburbio californiano.
En la secundaria Karen descubrió su afición por la batería, pero también su extraordinaria voz. Con su hermano Richard y Wes Jacobs –un amigo– formó el Richard Carpenter Trio y ganaron en 1966 la Batalla de las Bandas, un importante concurso musical entre adolescentes, según el portal IMBd.
Richard era un sabueso para los negocios y pronto identificó el potencial económico de su hermana. Ella tenía una voz dulce y casi perfecta. Poseía una veta de registros bajos, que emergían del pecho más que de la garganta y le daban un tono triste que él explotó –magistralmente– con sus arreglos.
Al principio les fue mal porque estaban fuera de época. Eran los finales de los años 60 y los artistas vivían el derrumbe de la sociedad norteamericana y sus valores más entrañables. O se estaba con el sistema o contra él. Los Carpenters no encajaban en ese mundo raro, donde el pastel de manzana, las hamburguesas en el jardín, las malteadas en la heladería y la vida en familia fueron lanzados al desván, con los trastos viejos.
Primero probaron con el nombre Spectrum y lograron algunos contratos en Los Ángeles, llegaron a sustituir a The Doors en el Whisky a Go-Go.
Fue la madre quien los conectó con un viejo amigo, Herb Alpert, dueño del sello A&M, que si bien estaba alineado con la tendencias roqueras de moda, vio el futuro del dúo y grabó

Ofrenda

, que apenas alcanzó el puesto 54 del Bilboard.
El despegue definitivo llegó con al álbum
Close to you
, con la canción del mismo nombre y otra pieza profética:
Apenas hemos comenzado
.
Close to you
ocupó el segundo lugar en 1970, solo superada por la emblemática
Bridge over trouble water
, de Simon & Garfunkel.
Una industria disquera depredadora; una familia cruel; un matrimonio frustrado; un hermano fármaco-dependiente y un ambiente hostil, produjeron un cóctel depresivo que llevó a Karen Carpenter a odiarse a sí misma y a destruir sistemáticamente lo único que podía controlar: su cuerpo.
Los ensayos musicales eran arduos; Richard era un perfeccionista que nunca estaba satisfecho; Agnes –la madre– sentía una particular preferencia y Karen solo tenía vida para cantar, andar de gira, grabar y realizar promociones.
Ellos representaban al joven perfecto: dientes blancos y alineados; ropa decente, estudiantes aplicados, modales respetuosos y acomodados al establishment. Hasta Richard Nixon los recibió en la Casa Blanca para un concierto y declaró que The Carpenters eran un modelo para la juventud. Por esos años comprar un disco de ellos eran como entrar hoy en una tienda de ropa americana.
Las canciones de Karen eran como queques sonoros, dulces, esponjosos y rellenos de crema; ideales para las veladas románticas, los compromisos y las bodas. Nada que ver con la bandas de
rock
, los hippies, las protestas universitarias y los muertos en Vietnam.
Cuando el dúo comenzó Karen ocupaba el fondo del escenario, oculta tras su amada batería. Pronto el público se dio cuenta que ella era la verdadera estrella y exigió pasarla al frente. Richard quedó relegado a un pianista acompañante y a regañadientes aceptó ser un segundón, paliando el sinsabor con su dependencia a los ansiolíticos.
El tomó libre unos meses, a finales de 1979, para internarse en un centro de rehabilitación y Karen aprovechó para viajar a Nueva York y grabar un disco de ritmos bailables, fuera del esquema de The Carpenters. Richard y el sello A&M rechazaron la prueba y Karen sufrió un duro golpe. Su camino estaba marcado por las ambiciones de su hermano y este no toleraría que se "saliera del canasto".
Apresada en una familia donde la madre repartía desigual el cariño, Karen tomó otro camino y se enamoró de Tom Burris, un empresario de bienes raíces que dejó a su mujer con tal de casarse con la cantante y resolver sus líos financieros.
Llegó a pesar 41 kilos y ocultaba su esquelética figura bajo capas de camisetas, blusas, pantalones y aprendió a fingir que comía
Karen deseaba una familia propia pero Burris le confesó que se había sometido a una vasectomía. ¡Adiós ilusiones!. Ella quiso suspender la boda pero la madre se negó porque ya las invitaciones estaban enviadas, los medios habían sido convocados y el escándalo sería apocalíptico si el compromiso se cancelaba. El matrimonio duró solo un año.
Acosada por los periodistas, que la tildaban de "rellenita", se volvió una fanática de la dietas y el ejercicio físico; incluso viajaba con un equipo de gimnasia y un entrenador personal. Tomaba diuréticos y fármacos para que su glándula tiroides aceleraba el metabolismo.
Llegó a pesar 41 kilos y ocultaba su esquelética figura bajo capas de camisetas, blusas, pantalones y aprendió a fingir que comía. Dejó de ir a la playa porque sus pechos desaparecieron y la gente a su alrededor la veía convertirse en un cadáver andante, como expuso el documental de
Biography
A&E.
Un año antes de morir estuvo internada en un hospital de Nueva York a causa de una deshidratación extrema, y la alimentaron artificialmente para que recuperara algo de peso.
Los desmayos eran frecuentes; dormía demasiado; carecía de fuerzas hasta para cantar y se fue desapareciendo…literalmente, hasta que mató de inanición a su cuerpo. La anorexia nerviosa convirtió la vida de Karen en días de lluvia y lunes horribles.


Karen, The Carpenters y el elogio de
Lennon
3 MAR 2014 | 19:54
Por humberto acciarressi
Se acaba de cumplir un aniversario del nacimiento de Karen Carpenter en New Haven, Connecticut, Estados Unidos. Si viviera estaría cumpliendo 64 años, ya que nació el 2 de febrero de 1950. Pero murió en 1983, unos días antes de cumplir los 32 años, por un paro cardíaco ocasionado por una enfermedad antiquísima pero casi no estudiada en esos años: la anorexia nerviosa. En 1975, cuando ya padecía el mal y consumía cantidades tremendas de un jarabe natural utilizado para causar el vómito y unas 90 pastillas laxantes diarias, los lectores de Playboy la consideraron la mejor baterista mujer. Además, Karen tenía una voz de privilegio, que ya había puesto de manifiesto en The Carpenters, el grupo con el que se hizo famosa y que compartía con su hermano Richard.
Curiosamente, mientras Karen jugaba al béisbol siendo una nena, el hermano mayor tocaba el piano. Así le fueron presentados nada menos que Ella Fitzgerald y Perry Como. A Karen, lo único que le interesaba de la música era la batería, y la tocaba muy bien. Al punto que con buen ojo para los negocios, su hermano la convenció de que la tocara en un grupo que formó cuando ella apenas era una chica de 15 años, y que se llamó Richard Carpenter Trio, en el que también participaba un amigo, Wes Jacobs. En 1966 el grupo se disolvió y ambos, junto al compositor John Bettis y otros más, formaron Spectrum. La cosa tampoco funcionó: las discográficas los encontraban demasiado complicados. El 22 de abril de 1969, Karen y Richard dieron el paso que los haría famosos en el mundo entero: firmaron solos con Herb Alpert, cofundador de A&M Records, lo que constituyó el lanzamiento de The Carpenters, oficializado con su primer álbum, "Offering", que incluía una versión melódica y bella de "Ticket To Ride" de los Beatles, que se metió en la lista de los cien más populares de Billboard.
Entre 1970 y 1975, The Carpenters se convirtió en el dúo más exitoso de toda la historia de Estados Unidos. Lo que tocaban se convertía en éxito. Encabezaron los charts, salieron en diarios y revistas, participaron en programas televisivos, tocaron en más de 200 conciertos anuales. Todo esto fue mellando la salud nerviosa de Karen. Richard, por su lado, se había convertido en un adicto a las pastillas somníferas. Las manos le temblaban y no pudo tocar más el piano. En 1978, The Carpenters se presentó por última vez en vivo. Curiosamente, Karen -mientras su hermano se rehabilitaba- se juntó con el productor Phil Ramone e hizo un disco que recibió elogios de todo quienes escucharon los ensayos, incluyendo a Quincey Jones. Su hermano, sin embargo, la desalentó y el LP no fue editado. Tenía miedo que Karen solista lo eclipsara y que The Carpenters no volviera a reunirse.
Todo esto decepcionó y agravó la enfermedad de la baterista y cantante. No lo sabía pero tenía los días contados. Cada vez más debilitada, resolvió terminar con el grupo que la hizo famosa y se instaló en Nueva York para poder ir a terapia cinco veces a la semana, con un especialista en problemas alimenticios. Uno de esos días cuando se encontraba caminando, se le acercó John Lennon y tímidamente le lanzó: "¿Puedo decirte algo, mi amor? Tienes una voz increíble que me encanta". Ella, emocionada y confundida, le preguntó más tarde a un acompañante: "¿Qué quiso decir? Y éste le respondió: "Lo que dijo ¡¡¡ Es John Lennon !!!". Esa fue una de las pocas cosas buenas que le ocurrieron en sus últimos tiempos. Incluso dicen que cuando el ex beatle fue asesinado, ella no dejaba de recordar aquel episodio.
De vuelta en Los Angeles, la cosa fue de mal en peor. Una noche, ansiosa, llamó a Phil Ramone para decirle que estaba orgullosa del disco que grabaron unos años antes y que fue boicoteado por el psicópata del hermano. Estaba en la casa de los padres (la madre, una controladora; el padre, un tipo insensible). A la mañana siguiente prendió la cafetera, volvió a la habitación, y como no bajaba a desayunar, la madre la buscó y la encontró desmayada. Veinte minutos más tarde, en la sala de guardia de un hospital, un médico le informó a la familia: "Lo siento, Karen está muerta". Con el paso de los años, decenas de artistas de la más variada gama, incluyendo a Madonna, han reconocido su deuda con la cantante y batera de The Carpenters, esa artista que llegó a pesar 40 kilos y que tuvo que lidiar con una familia que hizo por ella poco y nada, salvo usarla.
I
S BANNED ART-FILM, 'SUPERSTAR: THE KAREN CARPENTER STORY,' THE WEIRDEST MUSIC MOVIE EVER MADE?
12:18 pm



Director Todd Haynes is well-known for his arty, fictionalized depictions of music iconography. Velvet Goldmine was a glam rock epic, with characters modeled after Bowie and Iggy, while I'm Not There features seven different actors portraying "fictional" facets of Bob Dylan's personality or mystique. Both films blur reality with stylized interpretations, but neither takes even a fraction of the liberties Haynes exercised with his 1987 grad school student film, Superstar: The Karen Carpenter Story.
The film opens up on Karen's death, then flashes back to narrate her rise to fame. It's a spasmodic format—switching between interviews with peripheral music industry people, random footage and fascinatingly elaborate mise-en-scène reenactments staged with Barbie dolls and melodramatic voice-overs. In reference to Karen's anorexia, Haynes actually whittled down her Barbie effigy with a knife for later scenes, mimicking the progressive emaciation of her body. It's a dark portrayal of a slow death, Karen and Barbie, both icons of American perfection, wasting away before our eyes.
Superstar: The Karen Carpenter Story is technically illegal to exhibit, although since the advent of YouTube, it's a bit of a moot point (the upload embedded below was posted in 2012). Karen's brother Richard sued Haynes for copyright infringement. MOMA has a copy but even they aren't allowed to screen it. Even if Haynes hadn'tused Carpenters songs, there's a good chance Richard Carpenter would've found basis for a lawsuit. Haynes portrays Karen as the victim of her narcissistic and tyrannical family, even suggesting Richard was closeted.
It's difficult not to be sympathetic to Richard Carpenter who probably viewed the film as mere ghoulish, exploitative sensationalism. It's a strangely invasive and voyeuristic piece of art, and the argument could be made that it's totally unethical in its ambiguous, semi-biographical fiction. It's also totally hypnotic, with a compelling narrative and a pioneering experimentalism that makes it one of the great cult classics.
De cuando The Carpenters nos anunciaban la Navidad
Sus temas en que deseaban "Merry Christmas" los radiaban continuamente por las emisoras de radio del sur de la Florida, única posibilidad que tenían los jóvenes cubanos de escuchar "la música cantada en el idioma del enemigo imperialista"
martes, diciembre 23, 2014 |
Luis Cino Álvarez
|
LA HABANA, Cuba
-Las bellísimas canciones de amor de The Carpenters de los años 70 –Close to you, Superstar, Yesterday once more, Rainy days and Mondays y otras- están ligadas indisolublemente a los recuerdos de los que hoy somos cincuentones.
Aquellas melodías de los hermanos Karen y Richard Carpenter fueron muy especiales, también en Cuba,
a pesar de la revolución de Fidel Castro.
Durante muchos años, fueron los Carpenters los que nos avisaban, en el campamento-laboratorio-reformatorio-monasterio-manicomio-vertedero en que la revolución convirtió a Cuba, que se acercaba la Navidad. Ellos y también José Feliciano. Sus temas en que deseaban "Merry Christmas" los radiaban continuamente por la WQAM, la WGBS y las otras emisoras de radio del sur de la Florida, que eran la única posibilidad que tenían los jóvenes cubanos de escuchar "la música cantada en el idioma del enemigo imperialista".
Solo así nos enterábamos que rondaba Santa Claus, en aquella época en que no había villancicos, arbolitos ni guirnaldas, y había que ser muy osado para atreverse a entrar en una iglesia a ver las réplicas de cartón piedra del nacimiento de Jesús que colocaban los contados curas y beatas testarudas que resistían a pie firme los embates del ateísmo de estado.
¿Quién iba a asistir al filo de la medianoche a la misa del gallo cuando al día siguiente había que madrugar para irse a trabajar para la revolución?
Y ni hablar de la cena de Nochebuena. ¡Si a veces no había ni qué comer esa noche del 24 de diciembre!
En 1969 el Máximo Líder convirtió aquel año en uno mismo de más de 12 meses –¡ay Manzanero, y tú que creíste una cosa muy grande tu semana de más de siete días!- al empatarlo revolucionariamente con 1970, el año en que se producirían los 10 millones de toneladas de azúcar que sacarían a Cuba definitivamente del subdesarrollo.
Fue entonces que el Comandante decretó que no se celebraran más las navidades para que la zafra no se interrumpiera ni siquiera unos pocos días en diciembre, y porque dictaminó que era una costumbre burguesa, ajena a nuestras tradiciones y al materialismo científico, que había que desterrar de los predios de su Birán aumentado e ideológicamente corregido.
¡Como si los abedules y las nieves siberianas tuviesen más que ver con nuestras tradiciones e idiosincrasia que el trineo de Santa Claus!
Al final, los 10 millones no fueron, fue otro disparate más del Comandante, pero las navidades no volverían hasta más de 18 años después.
De cualquier modo, muchísimos cubanos nos la arreglábamos para celebrar la Nochebuena, a escondidas y como se podía, y nos deseábamos feliz navidad aunque supiéramos que eso era casi como desear un imposible.
Así, renuentes que somos a los permisos, no tuvimos que esperar a que viniera Juan Pablo II y oficiara una misa, nada menos que en la mismísima Plaza de la Revolución, para que el Comandante, que se había quedado colgado de la brocha con el derrumbe de la Unión Soviética y se agarraba hasta de un clavo ardiente, autorizara la Navidad.
Desde entonces hay navidades en Cuba, pero son un triste simulacro, despojado de su sentido cristiano y solo para los que tienen bastante dinero.
Que durante muchos años con un jingle hayan ayudado a mantener vivo entre los jóvenes cubanos el espíritu de la Navidad es una de las razones por las que amo la música de The Carpenters y los evoco en esta época, siempre tan llena de nostalgia.
Con todo mi amor: Ignacio.